15 Eco-Friendly Christmas Gifts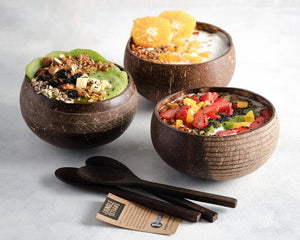 15 Eco-Friendly Christmas Gifts
Choosing the perfect gift can be quite the dilemma, especially when you're moving towards a more sustainable lifestyle. And while Christmas is a cause for celebration, where gifts are exchanged in earnest, it's also that time of the year when waste production is at its highest.
In fact, a study revealed that the amount of waste generated by each household increases by 25% between Thanksgiving and New Year's celebrations.
So this Christmas, if you're looking to give gifts more consciously and sustainably, here are a few ideas you may want to consider.
1. Stainless Steel Straws
This is an effective way to help someone cut down on their plastic consumption while also giving them a handy tool they can carry around. These straws come with a nifty little cleaner so it can be rinsed and cleaned out; brand new with every use.
Source: indiamart.com
2. Cork Yoga Mats
Typical yoga mats are made from a mix of materials including plastic, rubber, and other synthetic stuff, all of which are non-biodegradable and often toxic.
Source: yolohayoga.com
So this Christmas, consider getting a cork yoga mat for that special yogi in your friend or family group!
3. Chocolate Magic Protein
Speaking of fitness, what better way to help your highly-active friends than to give them an extra boost to aid in their post-workout recovery?
Source: planetprotein.com
Our Chocolate Magic protein powder is made using all organic, plant ingredients and packed in a recyclable bag that can be repurposed with our zero-waste program. Aside from the immense gains and recovery you're sure to get, we donate proceeds to countless non-profits and organizations so you can feel extra good about your purchase.
4. Stainless Steel Water Bottle
A simple, yet extremely useful gift, stainless steel bottles are great because
They're free from plastic and hence safer for both you and the environment
They act as both a bottle and a thermal flask and can keep your drink cool or warm, based on your preference
Source: indiamart.com
5. Tentree Seed Cards
Christmas cards are a heartwarming gift, but the reality is that after a while they're stashed in a closet and eventually dumped in the recycle bin. And the cost of producing these cards is too high - millions of trees are cut down every year in the process.
Source: tentree.com
Well, here's a card that could make a difference. The cards from Tentree are made from post-consumer paper and can be planted after the message has been read for an epic plant surprise. It's a great way to give back to the environment and your giftee can watch their gift grow with time!
6. Manifest Book
Dreamymoons makes fantastic eco-friendly gifts for those who love all things astrology and horoscope-related. And you're sure to have at least one such giftee among your loved ones.
Source: youtube.com
Consider getting them this illustrated Manifest Book to help them practice manifestation and attract positivity into their lives. It's the perfect gift so close to the New Year.
7. Reusable Food Wraps
Most people wrap sandwiches, fruits, and generally any kind of food in either aluminum foil or plastic. Not only is this bad for the environment, but it's also bad for your body considering all the chemicals found in both these wrapping materials.
Source: crueltyfreeshop.com
You don't want your loved ones ingesting toxins, so consider getting a few reusable cloth food wraps this Christmas. They can be washed easily after every use and even recycled once you're totally done with them.
8. Odor-Free Compost Collector
Some odor-free compost collectors are made from recycled and recyclable plastic, making it a sustainable gift on its own. But the best part is that it can get your giftee into the habit of composting, which is even easier with this bin thanks to its odor-free design.
9. Solar Power Charger
Another effective way to reduce our carbon footprint is to cut down on the amount of energy we consume. And a solar-power charger can help drastically reduce how much power is consumed by your giftee. It's also a lot more versatile as it can be used outdoors as well.
Source: amazon.com
10. Biodegradable Notebook
If you've got a giftee who loves writing, journaling, or doodling, 'A Good Company' offers an array of climate positive notebooks that are absolutely smooth and allow your pen to glide over ever so gently. The books are made entirely with recycled stone and their packaging is incredibly soft and recyclable as well!
Source: gadgeteer.com
11. Raw Soap Bars
While a bar of soap may not seem like such a creative gift, you can make it look really classy with a little effort. Raw soap bars even come without all of that excess plastic packaging and can be parcelled anyway you like before being gifted.
Source: indiamart.com
12. Coconut Bowls
This zero-waste, eco-friendly coconut bowl made by Coconut Bowls, is the perfect gift for literally anyone!
These sleek brown bowls come with sweet jungle-print designs carved on them and coconut spoons to complete the set. The best part? They last really long and will decompose easily once they're thrown away.
13. Solios Watches
If you've got a friend or relative who adores watches, the eco-friendly timepieces from Solios would be the perfect gift. They use stainless steel designs with vegan leather straps which are silicon-based and free from harmful toxins.
Source: kickstarter.com
The entire watch is both solar-powered and biodegradable, making it the most luxurious zero-waste product you'll ever find.
14. Wheat Phone Covers
These custom-made, zero-waste wheat phone cases are both soft and biodegradable and come in an array of shapes and sizes based on the brand and model you're using.
Source: etsy.com
And if you're looking for a special design for your loved one, you can always place a custom order.
15. Set Up A Show
This is perhaps one of the most effective ways to save time buying gifts for all your loved ones. Simply hire a performer, like a magician, fire juggler, or flow artist and get them to perform for your friends and family on Christmas eve.
It's far more sustainable than most gifts, you can give your loved ones an experience they won't soon forget, and you can help support an artist by supporting their craft. It's a win-win for everybody!
A Truly Green Christmas
This Christmas let's focus on going green, and with so many eco-friendly gifting options to choose from, it's totally possible! All you have to do is keep an eye and ear open to pick up on what your loved ones are looking for.
Once you know what gift you want to get, surf the net and you're sure to find a low-waste, eco-friendly option waiting to be picked. Start there and let's slowly move towards a healthier, more sustainable holiday season.
Merry Christmas!