3 Breakfast Hacks to Get Ahead on your Day!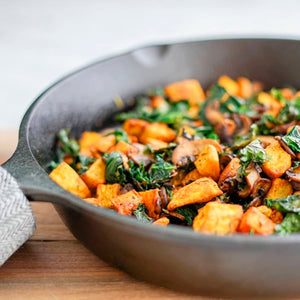 3 Breakfast Hacks to Get Ahead on your Day!
If you're a night owl like me, you can't eat much in the morning
It's not for lack of labor or love for cooking, but a nocturnal personality makes it rough to eat in the mornings. Given that those like me likely eat well over half their daily intake past noon, the advantages of a wholesome breakfast are sometimes lost on us! Night people need shortcuts, hacks, and quick fixes to get our mornings going. Here are 3 ways to make breakfast the night before and kick start your work day. Search online for an numerous array of recipes to try!
Overnight Oats
A favorite among conventional diners and vegan alike, this tasty take on a super healthy whole grain can make a seemingly endless bowl of oats feel and taste like a delicious custard. Infuse them with whatever you'd prefer - berries, maple syrup and chocolate chips, granola, nuts and seeds and on and on...
Hint
add some chia seeds for a creamier texture!
Vegan Pancakes
Another morning classic, made easy. A pancake, if cooked correctly with the proper ratio of inclusions, is the perfect vessel to carry your morning's vegan nutrition. Much like its cousins, the overnight oats and the chia pudding, a pancake carries the weight of a number of nutritious options. The link below shares a 6 ingredient recipe. Better yet, much of these ingredients can be bought cheaply and in bulk. Grab your whisk and go!
Hint
you can precook and reheat or refrigerate the batter!
Skillet Potatoes
This one is great. Make sure you cook them first! By skillet potatoes, we're referring to the hot and savory version of your overnight oats. It's the same concept! A motley of compatible veggies and seasonings should be added. Considering the potato is a widely utilized and nearly flavorless starch, versatility is at your fingertips. A usual go to involves onions, jalapenos, and peppers for that Tex-Mex vibe. Since it takes such a long time to get a really delicious well-done potato, this is a recipe you can leave on the burner while you bustle around your morning. Get the temp right and shake periodically and you'll be stunned with what you're capable of!
Hint
I'll usually clean my kitchen, check my emails, take care of my grooming tasks and feed my cats all during the process! You can too