3 Newly Fur Free Fashion Brands from 2018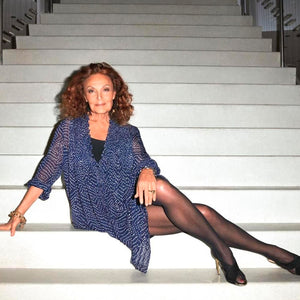 3 Newly Fur Free Fashion Brands from 2018
Applause for these now Fur Free Brands!
The vegan revolution is firmly planted on the runway! More than a diet, veganism is the total omission of cruelty based and animal derived products. This extends to the cosmetics we use, and to an even greater extent the clothing we choose to wear. For decades the lap of luxury was marked by furs, leather, and exotic animal skins. As the world heads closer and closer to a cruelty free economy, these new vegan fashion brands found the light and went fur free in 2018.
Diane Von Furstenberg
One of the elder stateswomen of the global fashion industry, her namesake brand 'DVG' has now partnered with the
Humane Society
and
PETA
to move forward without any animal products in her collection. Diane herself has commented on her excitement at the advancements in faux fur technology. Her brand remains committed to sophisticated and stylish design but recognizes that cruelty does not have to play a part in what we wear.
Burberry
Burberry has long been in the sights of anti-fur activists worldwide. A landmark brand of Great Britain and among the most commonly known signature fabrics, Burberry's classic designs are now cruelty free. In addition to the new commitment, Burberry intends to address the blowback from this past season when it incinerated over $30,000,000 worth of unsaleable merchandise rather than donating or repurposing this waste. It's great to see such a household name taking a stand against cruelty and waste! What better time than now?
Gucci
What's Gucci? Not fur! Among the most culturally relevant brands on the planet, Gucci has been the inspiration for both high fashion and hip hop, proving its luxury style has no boundaries. Thankfully, in 2018 Gucci set a boundary long overdue. In addition to no longer using fur, the brand has joined the
Fur Free Alliance
and auctioned its remaining fur pieces for charity. It's great to see Gucci is on board! It's never been easier to enjoy rich flavor, vibrant restaurants, and luxuriant fashion without the presence of animal cruelty.