4 Reasons to Choose Cacao Over Coffee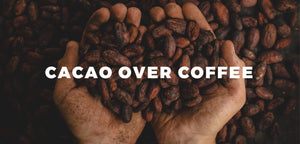 4 Reasons to Choose Cacao Over Coffee
Sometimes, we need a little extra boost. ☕ And although some research shows that coffee boasts a slew of benefits, it's high caffeine content can have damaging effects on our bodies, transforming us from alert to anxious. If you're feeling like you've become dependent on your morning and mid-afternoon brews, then you may want to consider swapping your habitual brew for a cup of cacao. 
Here are 4 reasons to choose cacao over coffee:
🍫 Cacao packs a punch of potent antioxidants to keep your cells healthy and support your immune system. Cacao's antioxidants can also aid your skin in looking refreshed and dewy by fighting wrinkles and the signs of premature aging.
🍫 Love the way coffee makes you feel? You'll get similar effects from a hot cup of cacao! But we suggest consuming cacao in the form of Planet Protein Chocolate Magic. Simply add it to your smoothie!
🍫 Cacao is pretty low in calories and provides a sustainable amount of energy, unlike coffee, which can take you on a rollercoaster. Cacao has around one-sixth of the caffeine content of a cup of coffee, so the up-and-down effects become drastically minimized.
🍫 Cacao is one of the world's richest sources of flavanols, free-radical fighters that have been linked to better cholesterol levels and healthy blood pressure. It also contains plenty of iron, magnesium and potassium.
Choose
 cacao over coffee and shop our chocolate magic now!