5 of the Most Effective Ways to Work Out at Home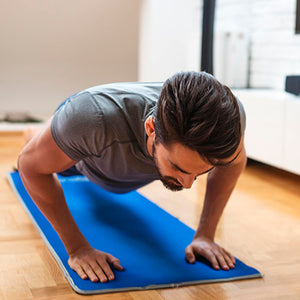 5 of the Most Effective Ways to Work Out at Home
A Quick Guide to Home Calisthenics
If a crowded gym doesn't sound very appealing to you, you'll be pleased to know that there are other fitness options available to you. When you perform exercises correctly, you can achieve results in the comfort of your own home. We've created a quick list of five of the best
ways to work out at home
. You can reference this short guide anytime to break a sweat in a pinch!
Bodyweight Workouts
At-home workouts don't have to involve equipment or machines. Bodyweight exercises are effective for building muscle and increasing your endurance. Plus, because they don't require weights, you can complete bodyweight exercises at any time. These are a few examples of bodyweight workout moves:
Ab circuits
Bodyweight squats
Dips
Lunges
Elevated push-ups
Digital Programs from Qualified Trainers
The digital fitness realm grows every year.
Because the Internet is so vast, it's no secret that you can find numerous workout resources online. From PDFs and online services to on-demand fitness apps and YouTube videos, there are thousands of workouts you can choose from that qualified trainers create consistently. No matter your interests, you're certain to stumble upon exercises you'll like. Many trainers will also offer guidance when choosing supplements, protein powders, and nutrition bars
HIIT
Today, HIIT (high-intensity interval training) workouts are popular—and for good reason. You train in intervals, completing movements back to back with little rest. This way, you're able to get the most from your workout in a short amount of time. If you own equipment, you can easily complete high-intensity workouts at home. Reach for your jump rope or a set of dumbbells and you're set. Even if you don't have equipment, you can still create an effective HIIT workout. Burpees, high knees, and mountain climbers are just a few moves you can incorporate into your exercise routine.
Outdoor Running
Outdoor running is a free way to breathe in some fresh air and bump up your heart rate. It's also a great way to challenge yourself; perhaps you've decided you want to improve your stamina or prepare for a big race. Plus, it's a perfect opportunity to enjoy some peace by the pond or explore neighboring subdivisions.
Resistance Band Workouts
Many people underestimate the power of a stretchy workout band. They're powerful tools that aid in toning your body. Bands vary in resistance, so you can adjust the intensity of your workout based on your fitness level. Furthermore, resistance bands are affordable and take up very little space. They're excellent additions to the equipment you already own.