7 Step Guide to Starting a Greenhouse at Home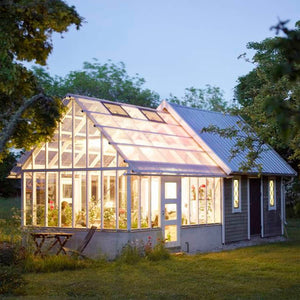 7 Step Guide to Starting a Greenhouse at Home
©
/ Unsplash For many avid gardeners, the cold weather is their worst enemy. If you're tired of putting your passion on hold due to the inclement weather, an at-home greenhouse could be the answer to your problem. Greenhouses not only provide a year-round space for your hobby, but they also come with a variety of wonderful mental health benefits. If you're looking for a simple and eco-friendly option for gardening (even throughout the winter) use our beginner's guide to starting a greenhouse at home.
How-to Guide for Your At-Home Garden Sanctuary
Ponder PlacementThere are many important factors to consider before implementing an at-home greenhouse. A few major components are deciding if you want a lean-to or stand-alone structure, determining the number of plants you plan on having, and taking note of sun blockages and existing water and electricity connections. Remember that greenhouse's require at least 6 hours of direct sunlight per day, so the orientation and placement of your greenhouse is of the utmost importance.
Decide on Buying or BuildingOnce you've figured out placement, it's time to decide if you'll build or buy a greenhouse. Building can be an extensive process; take time to establish a budget, and research the necessary materials needed to complete the project.When it comes to purchasing a greenhouse, considering buying commercial. Not only do they have a wide variety of options, but they source their products from reliable manufacturers, compared to their cheap home-improvement store counterparts.
Pursue Additional AccessoriesJust as important as the frame of the greenhouse is, so are the accessories that go within it. Automatic vents, shelving, mist systems, and heating are all great accessories to have within your greenhouse. Including these in your greenhouse will make it more efficient and easier to work with.
Choose Your CropsNow it's time to choose the crops you wish to grow. We recommend planting between 20–30 percent more seeds than you expect to grow. The choices are nearly limitless but take the time to pick out what will make you happiest to work with.
Note the Natural Growth CycleIf you're new to greenhouse gardening, it's important that you pay special attention to the plants' natural growth cycles. People tend to think that since they have a greenhouse, they can plant crops in their off-season; don't attempt to maintain a crop during its off season as it will take up extra time and money.
Sterilize Pots and ToolsBefore you start planting, make sure to sanitize your gardening tools. Your gardening equipment needs to be adequately sterilized, otherwise your crops could be negatively affected. Spray your tools with diluted bleach water and then rinse them in water before using.
Plant to Your Heart's Content You're ready to go! Now you can revel in the joys of gardening all year long. As long as you properly take care of your seedlings, your at-home greenhouse should reward you with bountiful crops. Make to most of your greenhouse experience by staying up-to-date on all the latest at-home greenhouse gardening tips.