8 Ways To Turn Your Organic Pumpkin Decorations Into Food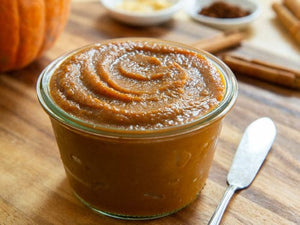 8 Ways To Turn Your Organic Pumpkin Decorations Into Food
Halloween is just around the corner and you're sure to see dozens, if not hundreds, of jack-o-lanterns lighting up the lawns and living rooms of every home. And once the festivities have concluded, most of these pumpkins will be tossed in the garbage.... now that's SCARY!
Well, how about this year you try something different? Instead of wasting all the nutrition that organic, non-GMO pumpkins have to offer, here are a few ideas to turn your pumpkin decorations into yummy, organic vegan food.
1. Pumpkin Puree
It may not sound appetizing on its own, but pumpkin puree serves as the base for most of the other dishes on this list. And it works wonders as a flavor enhancer in pies and pancakes.
Source: foodal.com
First, cut open your organic pumpkin and be sure to get rid of any decorations that may be on the insides. Once it's clean, you can boil, bake, or steam the pumpkin before scooping out the soft flesh and turning it into puree with a food processor. This puree can be stored in the freezer for months at a time.
2. Pumpkin Butter
Fruit butters make for sweet spreads on toast and plant-based desserts, and pumpkin butter is perhaps the easiest to make. All you have to do is mix two portions of pumpkin puree with one portion of organic brown sugar (or coconut sugar) and apple cider vinegar in a saucepan. Here, you can add any spices you prefer. Cinnamon, nutmeg, and cloves make for a good combination.
Source: fifteenspatulas.com
Stir all the ingredients and bring the mix to a boil after which you can turn down the heat and allow it to simmer for about 30 minutes. And voila! You've got pumpkin butter!
Once the butter cools, put it in a glass jar and refrigerate where it should keep for about two to three weeks.
3. Pumpkin Pie Smoothie
This delicious smoothie recipe is basically like having a liquid pie in a glass, with all the richness that usually comes with pie. All you have to do is blend this list of ingredients in a blender until you're left with a thick, creamy smoothie. Add our Chocolate Magic for added benefits of superfoods and vitamins!
4. Roasted Pumpkin Seeds
When you're scraping out the insides of your organic pumpkin, keep the seeds aside for later; they make for a crunchy and extremely nutritious snack.
Source: tasteofhome.com
To prepare them, lay the seeds out in the sun (preferably on a sheet) until they dry completely. Now place them on a baking sheet and drizzle olive oil and salt on top before baking the seeds. You may want to use different batches of seeds so you can experiment with different spices, like chilli powder, cinnamon, and paprika, giving this crunchy snack some unique flavors.
5. Make Vegetable Stock
When you're cleaning out your pumpkin, you'll find the seeds sheathed in these thick, stringy pieces of pumpkin. These stringy bits are popularly called the 'guts' and can be used in a variety of different dishes, from vegan risotto to vegan lasagna.
The easiest way to utilize them is to make a vegetable stock which can be added to soups, dressings, and pastas!
All you need to do is boil the guts in water and add other unwanted veggie pieces, like celery or carrot tips, for added flavor. In about 30 minutes, the color of the water should start to change, after which you strain out the stock which can be preserved in the refrigerator for a few months.
6. Pumpkin Candy
First, you'll need to cut the flesh into bite-sized pieces and boil the pieces in a saucepan with the water just barely covering the pieces. When the pieces start to soften add a cup of organic coconut sugar, cinnamon, ginger, nutmeg, and cloves. Cover this mix with a lid and continue boiling until the sugar turns into a syrup.
Leave the pumpkin pieces in the syrup overnight where they will soak up the spices and sugary flavor, leaving you with a delectable Halloween snack.
7. Vegan Pumpkin Bread
The easiest way to make vegan pumpkin bread would be to mix a hefty quantity of pumpkin puree into the batter. But let's get innovative and use the pumpkin guts here instead.
Source: onceuponachef.com
The guts are chunky and solid and will give the bread a nice, thick texture. It's delightful to find tiny ribbons of pumpkin throughout the loaf as you eat it, whereas using puree would result in the pumpkin being lost entirely in the batter.
For this recipe to be a success, ensure that the guts are neatly chopped up into fine strips so the bread doesn't fall apart once it's baked.
8. Pumpkin Pancakes
Eating a heap of pumpkin pancakes in the morning can help kickstart the day after an exhausting night of festivities. And they're extremely easy to make, not to mention super high in fiber! Again, adding our Chocolate Magic makes a great addition to any pumpkin recipe for increased nutrient-density.
Happy Halloween!
Well, now you've got a few creative ways to use all those extra pumpkins this festive season. Pumpkins are rich in beta-carotene, B vitamins, and zinc; nutrients that are essential to our bodies. So why not make the most of these bulbous fruits when the festivities are done? Happy Halloween!