A Very Vegan Christmas! 4 Courses to Try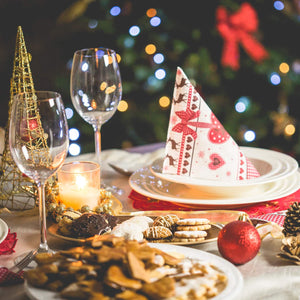 A Very Vegan Christmas! 4 Courses to Try
4 Vegan Christmas Courses
Merry Christmas fam! For some vegans, the holidays can be a contentious time that is often characterized half-jokingly by confrontations with distant aunts and uncles. Despite the tongue-in-cheek caricatures of family dynamics around veganism, the holidays are an outstanding time to lead by example and introduce amazing new flavors to everyone. Check out these four savory favorites. Enjoy your holiday!
Parsnip and Butternut Squash Soup
by: My Darling Vegan
An ideal main course, or as a simple introduction to the table, this parsnip and butternut squash soup is filling, so watch your appetite! This soup is easy, cheap, and gluten free!
Click
here
for the recipe
Maple Thyme Roasted Carrots
By: Debi, Lifecurrents Blog
It's hard to envision a holiday season without candied carrots. Rather than cheap sugar, this recipe uses organic maple syrup as a more flavorful, cleaner alternative. This recipe is only five (FIVE!) ingredients. Too easy not to bring out to the table.
Click
here
for the recipe
Chestnut Pate Strudel
By: Vegan Recipe Club (UK)
This delicious European classic replaces mince with chestnut pate, another brilliant use of nuts as a meat substitute. Despite it's challenging appearance, don't be intimidated! This recipe is easy enough when followed closely and methodically. This could be the star of the show!
Click
here
for the recipe.
Glazed Lentil Walnut Loaf
By: Oh She Glows
Hearty, wholesome, and healthy. Replace cheap ground beef with the magic of lentils, one of the most abundant and healthiest foods on the planet. The sweet tangy sauce mingles with the apples and walnuts to form a flavor and texture that is equal parts fulfilling, equal parts delight.
Click
here
for the recipe.