BLUE-GREEN ALGAE MAGIC PIÑA COLADAS!!!!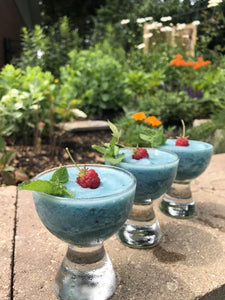 BLUE-GREEN ALGAE MAGIC PIÑA COLADAS!!!!
Sometimes we toss the Chocolate Magic into recipes one might not think it would taste good in... and BAM! Tastes like paradise.
Think of Chocolate Magic as more than just a protein powder... it's also a superfood vitamin! We added the Chocolate Magic to this recipe for the boost of vitamin B12 and immune-boosting reishi mushroom. The B12 along with the algae and organic fruit juices energize, reawaken, and enliven the soul! Here are some reasons to enjoy blue-green algae:
Ingredients👇
• 5 oz juiced pineapple
• 5 oz coconut water
• 4 frozen bananas
• 1/2 scoop Chocolate Magic
• 1 tbs blue-green algae
Directions👇
1. Blend to perfection. Topped with fresh mint & raspberries harvested from the backyard organic garden.
"Health is the soul that animates all the enjoyments of life, which fade and are tasteless without it.
"
-Lucius Annaeus