Chocolate Magic Mocha: A Vegan Protein Masterpiece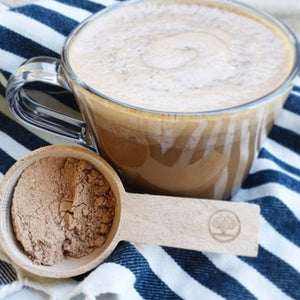 Chocolate Magic Mocha: A Vegan Protein Masterpiece
Chocolate Magic Mocha
Recipe and article by: Katie McClenny, Oregon State University.
I'm all about the spring/summer vibes that Mother Earth is dishing out right now, but these warm days are still starting out as crisp mornings. I don't know about you but when I wake up in the morning and feel those first chilly footsteps on my wood floors, I don't want a cold beverage. I need warmth!! Thinking about a hot protein shake makes me think of those accidental times we leave our shaker cups in the car after the gym (oops!). I wanted to come up with a
better
way to incorporate loads of plant based protein into a hot beverage. In comes the MAGIC MOCHA! The best part about this Magic Mocha is that unlike other reishi mushroom drinks, there is absolutely NO bitterness with this drink. It's the perfect way to wake up and start your day off on a magical note.
MAGIC MOCHA
Ingredients
8 oz of your favorite, joy inspiring brewed coffee (the stronger the better)
8 oz of almond milk (whatever you have on hand will be great!)
1 scoop of Planet Protein Chocolate Magic Vegan Protein Powder
Instructions
Pour your almond milk and 1 scoop of Chocolate Magic into a small mason jar and seal with a lid.
Shake the jar vigorously to get it nice and creamy!
Pour this creamy, frothy goodness into your perfectly brewed cup of coffee and stir.
The only thing left to do is sit back and soak in the Magic!