Dairy Free Breakfast Ideas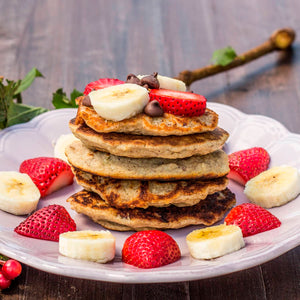 Dairy Free Breakfast Ideas
Finding dairy free breakfast options that are healthy and delicious, can be a tall order.
This task can get even more difficult if you're also maintaining a vegan lifestyle!
Being conscious of what goes into your body ensures that you're feeling your best and in control, but it also means you're always looking for new ideas and recipes that align with your health ethics. If this sounds like you, we're pretty sure you're gonna love these next two sweet breakfast treats!
After lots of trials and experiments, we've discovered two dairy-free
AND
vegan recipes that we think everyone can agree are delicious (and not to mention, ridiculously easy to make).
Plus – they've both got a special Chocolate Magic kick!
Dairy Free Protein Pancake Recipe
Ingredients :
2 1/2 Cups Nut Mylk
2 Large Bananas (Mashed)
2 Cups Oat Flour
2 Scoops Chocolate Magic
2 Teaspoons Baking Powder
1/2 Teaspoon Cinnamon
Instructions :
In a large bowl, whisk Oat flour, Chocolate Magic, Baking Powder, and Cinnamon.
Gradually add the nut mylk and mashed bananas, stir until smooth.
Over medium - low heat, cook for 2 minutes on each side.
Serve warm & top with Peanut Butter, Maple Syrup, Cacao Nibs, or Protein Bar bites!
Dairy Free Magic Muffins
Ingredients :
3 Tablespoons Almond Mylk
1 Cup Almond Flour
1/2 Cup Avocado
1/4 Cup Maple Syrup
2 Scoops Chocolate Magic
1/2 Teaspoons Vanilla Extract
1/4 Teaspoons Baking Powder
Instructions :
Preheat oven to 350F.
Add all ingredients into a blender (or food processor) and blitz until smooth.
Use a spoon to scoop mixture out and into a muffin pan.
Bake for 25 minutes.
Enjoy!
Ready to try your hand at Dairy Free Protein Pancakes or Dairy Free Magic Muffins? Make sure you tag us on Instagram ( @Planet_Protein ) to see your delicious dairy free creations!
Want even more dairy-free (and vegan) recipe ideas for all kinds of dishes? Download our free recipe book HERE !