Ethical Eating: 6 Vegan Blogs to Follow in 2019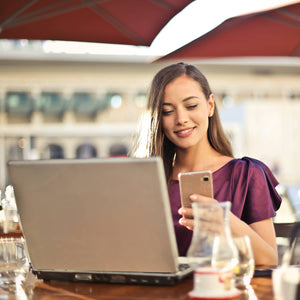 Ethical Eating: 6 Vegan Blogs to Follow in 2019
Citation:©
/Adobe Stock Thanks to the multitude of resources now available, adapting the vegan lifestyle is becoming easier every day. People have taken to sharing their tips and tricks for vegan cooking online—whether you're looking for budget-friendly recipes or creative vegan spins on the recipes you love, there is most likely someone on the Internet to help. These six vegan bloggers have built their followings by offering some of the best vegan recipes available.
When Brandi Doming's husband began to suffer from gout, they decided together that the vegan lifestyle would be the best option for him. As Brandi began exploring this brand-new realm, she fell in love with cooking and wanted to share her passion. Doming loves simplistic recipes and wants people of every skill level to be able to cook amazing meals, so she created The Vegan 8—all the recipes on the blog feature eight ingredients or less.
Lauren Wright is extremely passionate about our relationship to the Earth. She built the foundation of her blog around her conviction that everyone deserves a wholesome meal. Wright's inspired recipes are a breath of fresh air, and anyone who tries them is sure to feel renewed inside and out.
Ginny Kay McMeans shares freezer-friendly, high-protein recipes for vegans on the go. She has even written two cookbooks full of quick, nutritious vegan recipes. For busy folks and meal planners, McMeans' blog will be a welcome addition to your bookmarks tab.
Although Kristy Turney had always said she could never be a vegan, health concerns prompted her to give the lifestyle a chance. She and her husband began their journey in veganism together, and they collaborate on the blog as well. Turner uses organic, locally-grown ingredients in all her recipes.
For anyone concerned about budget, Julie West has a solution. West provides clean, healthy recipes that are just as appetizing as they are affordable. Her recipes are simple to cook, and West's passion for animal rights is just as inspiring as her dishes.
Erin Wysocarski believes that eating ethically is more important than eating logically—which is perhaps a logical sentiment in itself. Wysocarski's dishes are both beautifully presented and beautifully photographed. Her goal is to prove that vegan food doesn't have to be as tasteless and boring as many believe it to be.