Fuel Up Like an Olympian with Gold Medalist Kaylin Whitney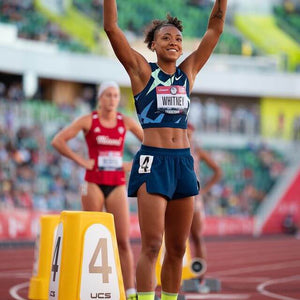 Fuel Up Like an Olympian with Gold Medalist Kaylin Whitney
Earlier this summer, the world saw one of the most epic Olympic games in history. The United States took gold a whopping 39 times in Tokyo. One of those gold medals was achieved thanks to Kaylin Whitney – a Team USA track and field athlete.
This rockstar has been running track since she was seven years old. Originally a 100- and 200-meter short sprinter, Kaylin leveled up to the 400-meter distance to earn her spot in this summer's Olympic games. She partially attributes her success to a plant-based diet, which she started ahead of the trials.
Her favorite way to power her running game is by blending up and chowing down a Planet Protein packed oatmeal bowl. We sat down with Kaylin to find out what fuels her, how her diet supports her success and more.
How does it feel to be an Olympic gold medalist?
It feels so amazing! To be able to set a goal for yourself, put in the work every day towards it, and then achieve it is one of the best feelings you could ever feel as an athlete. 
Do you feel your recent shift to a plant-based diet contributed to your victory or improved performance in any way? If so, how?
I absolutely believe that my shift to a plant-based diet helped contribute to me becoming the athlete I needed to be in order to achieve the goals I set for myself. The benefits I experienced included excess weight loss, improved recovery, and better sleep. This in turn allowed me to train my absolute best day in and day out with very few issues and no injuries, which is a first for me in my entire athletic career. 
Are you team Chocolate Magic or Vanilla Magic?
Its honestly so tough to pick! As I am a chocolate FIEND! But I have been using Vanilla Magic much more often! 
So, be honest, did you bring a bag of Magic with you to Tokyo?
As soon as I got there, I immediately regretted it! It would have been so clutch for my daily morning oatmeal! I'll be sure to travel with it for now on! 
What's your favorite way to consume Planet Protein?
So far, I really enjoy using the Vanilla Magic in my oatmeal! I mix it in with peanut butter, banana, and walnuts; always delicious! 
What's next for Kaylin Whitney!?
So I have about three weeks left of my competitive season and then I will be taking a much-needed BREAK! I have been researching vacation destinations like a madman! 
What's your greatest piece of advice for aspiring athletes?
Honestly, just do what you love, all the time. Do it with grace, do it with passion! Follow your highest excitement always! 
By Elyssa Eaton
Elyssa is a plant-based health and wellness enthusiast, and 200-hour registered yoga teacher, who spends most of her time slicing, dicing, blending and munching on colorful fruits and veggies. Inspired by a zero-waste lifestyle, Elyssa is often found out and about with a mason jar, glass straw and bamboo utensils in tow. If you're into smoothie bowls and rainbow salads, check her out on Instagram @elyssaeatonfresh.