Health Benefits of Indoor Plants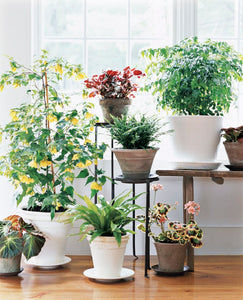 Health Benefits of Indoor Plants
We know plants have many health benefits when consumed, and of course they create the oxygen we breath! But did you know there are many health benefits by simply putting plants in your living/work space?! Check out these benefits plants provide!
🌱

1.
YOU'LL BREATHE MORE PURE AIR
Studies show that indoor plants help rid the air of common toxins and indoor pollutants such as formaldehyde and benzene. In fact, one study found that the bromeliad plant removed more than 80% of six volatile compounds in a 12 hour period! The dracaena plant can even remove 94% of acetone!

2.
BOOST MENTAL WELLBEING
Houseplants can benefit mental health. For example, when 28 new plants were placed in a common area of a heart and lung rehab center in Norway, patients reported a greater increase in well-being. After all, we have evolved on earth next to the trees, grass, flowers, etc. There is also such thing as HTR, horticultural therapy! "It is no wonder they make us feel at home- for eons they have fed our bodies and our souls." - John Beirne.

3.
FEEL CONNECTED AND ACCOMPLISHED
Studies show that people who pot and care for plants have an increased quality of life. Researchers say this is due to the feeling of accomplishment and companionship people have because of their plants.

4.
STRESS RELEASING
Actively maintaining for plants helps one forget about the troublesome stressful things in life, focusing on the here-and-now. This is great for human psychologically, but also physically.

5.
PROMOTE HEALING
Researchers from Kansas State have found that patients with plants in their rooms require less pain medication, have lower blood pressure, lower heart rate, and feel less anxiety. Many plants provide physically healing benefits, like aloe vera.
6.
BRIGHTEN UP THE ROOM- FENG SHUI
Not only do indoor plants offer color and liveliness, but they reduce noise, unattractive areas, and moderate room temperature.

CHECK THIS OUT!
IDEA: We repurpose our jars and make edible bouquets to gift family and friends!