How to Build a Home Gym in Your Basement in 3 Steps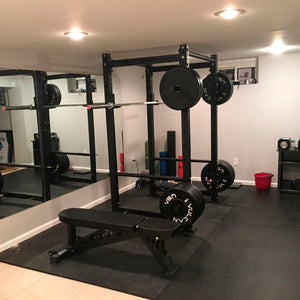 How to Build a Home Gym in Your Basement in 3 Steps
Make the most of your space with a basement gym
Growing tired of your commercial gym? Continue your exercise regimen at home. There's no commute, and you don't have to share your equipment with others. If you prefer to work out alone in the comfort of your living space and want to learn
how to
build a home gym in your basement
in just three steps, keep reading.
Make sure your basement is safe
You don't want to begin work on your basement gym until you know that the indoor air quality is safe! So, before you
renovate your basement
, consider the following. Your basement needs proper ventilation, and an overhead fan or two can really help. As you know, gyms are where you sweat—and sweat hard. A fan ensures your home gym has optimal air circulation. You should also add a couple plants into your setup. They'll improve your basement's air quality, and they'll transform your gym into a place where you can unwind. If you notice puddles of water in your basement, wipe them up with a rag right away. These standing pools are ideal for mold growth. Mold isn't just ugly—it's dangerous to your health and can seriously affect your workout. The puddles in your basement also might indicate a bigger problem, such as foundation cracks, so let your local waterproofing professionals thoroughly investigate the space. They'll let you know if you have anything to be worried about.
Design your gym for inspiration
Your home gym is a place where you can crush your workouts. Why not design it to be a sanctuary you'll enjoy for years? Here are a few tips to get you started:
Install a mirror. To avoid injury during a particular workout, you can check it to see if your exercise positions are correct. Plus, the progress you notice in the reflection will give you a confidence boost.
It's dangerous to work out in a dimly lit room. Natural light allows you to see exactly what you're doing—and it also boosts your mood. If your exercise space doesn't have windows, use artificial lights that imitate natural sunlight.
Consider anti-fatigue carpet tiles or rubber flooring instead. Your space will feel much more comfortable, and you'll feel way more motivated!
The colors in your gym can have an impact on your energy levels during a workout. Paint your basement walls a bold color or, if you plan to do a lot of yoga, try a soft shade. Color creates a personal touch, and it's sure to give you that extra push to perform at your best.
Incorporate your favorite machines and equipment
Once your basement is up to code and you've solidified some additional design work, consider the equipment you'd like in your home gym. Whether you want to invest in free weights, kettlebells, or a squat rack, your space can feature whatever machines and accessories you want. However, it's probably best to choose items that align with your fitness aspirations. We hope you take our ideas as creative energy to build your home gym. After all, what's not to love about a convenient workout location?