Maca root for everyone!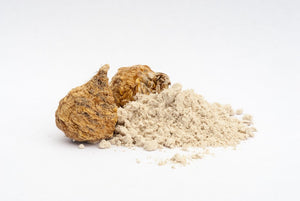 Maca root for everyone!
When it comes to our Magic Proteins, we believe that it's important to use the best ingredients the earth has to offer. We are proudly rooted in the mentality of doing good for our bodies and the planet. Our magic blends are simple. We use minimal ingredients and each one has a purpose. Today let's chat about Maca Root!
Maca is a turnip-like root that has been harvested from the Peruvian Andes for over thousands of years. Maca helps eliminate carcinogens from the body due to its anticancer properties. Maca adds a delicious light and nutty flavor to Vanilla Magic, making you want to drink your entire shake in just one sip! More benefits of the amazing Maca Root below: 
Contains copper, Manganese, vitamin C, B6, iron and potassium

Acts as a natural antidepressant and can help with feelings of anxiousness

May help with memory and physical endurance 

Helps with stamina and libido
In need of some more Maca Root in your life? Shop our vanilla magic protein powder and see all the amazing benefits it yields.
**Header Image used from Emerson Ecologics**