Magic May: 4 of our favorite Edible Flowers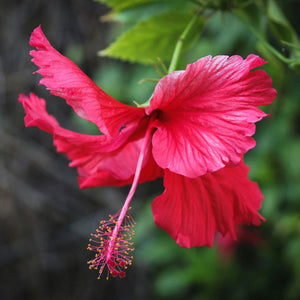 Magic May: 4 of our favorite Edible Flowers
The Magic of Edible Flowers
Banana Blossom
Banana's aren't the only edible part of the tree. Banana blossoms have recently spiked in popularity in vegan restaurants across the country. With vegan seafood gaining in popularity, banana blossoms are part of the next horizon in vegan food. Their fleshy and firm texture makes them a perfect fish substitute, seeing their use in vegan fish and chips, cajun style, and even tempura recipes.
Hibiscus
Hibiscus flowers are visually beautiful, featuring a sweet and tart flavor found most popularly in teas, kombuchas, and other holistic beverages. Hibiscus is truly one of the more versatile edible flowers in the world, though its use in the culinary arts is still largely limited to drinks. It can be as refreshing in teas as it looks as a garnish, and is seeing more frequent use as an inclusion in classier cocktails. Hibiscus has been known to regulate blood pressure and fight hypertension.
Zucchini Blossoms
The white-yellow blossoms grow alongside their aforementioned green, tubular fruits and offer another mild but versatile staple from the same plant. Zucchini blossoms can be stuffed and served as finger-food appetizers. However their most popular use is on pizzas, paninis, and even stuffed in quesadillas!
Calendula
One of the better vegan food colloquialisms to learn is the "poor man's _____." Any food known as the "poor man's" version is likely to be an adequate to perfect facsimile in place of an otherwise expensive or rare item (sometimes both!). Calendula is the "poor man's saffron." Saffron, of course, is one of the most expensive spices in the world. While we've never had the pleasure of trying calendula, knowing there's a poor man's saffron out there is too cool not to share. For more vegan food curiosities check out these living fermented foods!