Nipsey Hussle, Dr. Sebi documentarian, killed before completing film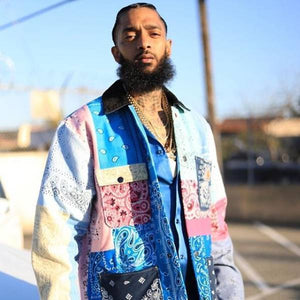 Nipsey Hussle, Dr. Sebi documentarian, killed before completing film
Rapper, philanthropist, and filmmaker dead at 33.
By: Anthony Carriuolo, COO, Planet Protein
Yesterday, Grammy nominated rapper and upcoming documentarian Nipsey Hussle was shot and killed outside his clothing store in South Central Los Angeles. The music world and beyond are aggrieved by his passing. Nipsey Hussle, born Ermias Davidson Asghedom in South Central L.A. hit his stride as an artist, showing a true entrepreneurial spirit along the way that was admired by his peers abroad. A real man of the town, Nipsey reinvested much of his earnings into projects that empowered his community.
Recognizing the struggles that persisted within his neighborhood, Nipsey developed projects like
Vector90
, a workspace that provides the modern necessities and an entire floor dedicated to STEM instruction for children. This was part of a greater ambition to expand STEM across the country, a need echoed by our schools and professional spheres. After playing some small roles, Nipsey's first major production was a documentary planned to explore the life and mysterious death of
Dr. Sebi
in police custody while in his native Honduras. While nothing has been confirmed, the controversial nature surrounding Dr. Sebi's claims certainly could have put him in the crosshairs of powerful industries bent on monetizing sick patients. Perhaps the most high profile of Dr. Sebi's claims was that he possessed the cure for AIDS, and when challenged in court in 1988 brought 77 witnesses, forcing a Not Guilty declaration. The details of the treatment were never released. Nipsey Hussle wasn't the first high profile musician connected to Dr. Sebi who was slain. In 2002, Lisa 'Left Eye' Lopes was killed in a car accident in Honduras, shortly after leaving Dr. Sebi's retreat and declaring to the world she was planning to publicize his findings.
The motive behind the shooting has not been confirmed. For now, the search is on for a suspect, while the rest of us are left to wait and wonder. Whatever happens from here, no one can take away the powerful impact Nipsey Hussle made through his enterprising and philanthropic spirit. Source(s) New York Times
https://www.nytimes.com/2019/04/01/us/nipsey-hussle-death-la-marathon-clothing.html
CNN
https://www.cnn.com/2019/03/31/us/nipsey-hussle-los-angeles-shooting/index.html