Our Top 10: Sustainable Gift Ideas for Mom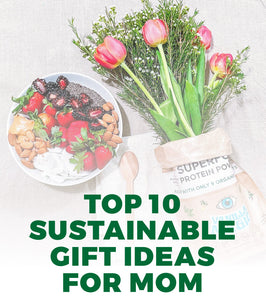 Our Top 10: Sustainable Gift Ideas for Mom
Mothers Day is right around the corner and we want to help you celebrate mom sustainably! Here are our top ten sustainable gift ideas for Mother's Day, that all will pair beautifully with a new bag of Chocolate or Vanilla Magic... 
1. Order a gift online from a reputable, sustainable company
For any mom, a bag of Planet Protein's Chocolate or Vanilla Magic powder is the best gift. It's loved by mamas and kiddos alike! Planet Protein is a transparent, sustainable company focussed on the wellness of its consumers, as well as the planet. It's the ultimate baking, sipping, smoothie-bowl-making superfood!
For the fashionable mama, check out ThredUp- a huge online second-hand clothing store with a large variety of styles and sizes. For the mom who could use some self-care, Toms of Maine is a sustainability-focussed company that offers some amazing bath and body products. Earth Hero is another great place to browse for sustainable gifts- they have just about everything.
2. Countertop compost bin
A countertop composting bin is an amazing gift idea for the eco-conscious mom. Help her put her food scraps to good use, no garden necessary! We really love the countertop bins from Full Circle.
3. Sustainably grown Flowers
Companies like Farmgirl Flowers are a great option to send mom flowers when you don't live close by (or even if you do!) You can find beautiful, sustainably grown arrangements, bouquets, preserves and more that can be delivered right to her doorstep! It's estimated that 64% of Mother's Day gifts every year are flowers. Supporting a company that chooses to sustainably source their flowers is a great way to keep the tradition alive, while loving on the planet too.
4. Upcycle (or regift) something you already have!
Try your crafty hand in making some wall art, clothing, or accessories out of objects and materials you already have at home! Not the artsy type? That's okay- there are MANY shop owners on Etsy who are. 😉
5. Plant some seeds in a thrifted pot
Picture this: you thrift an amazing pot, touch it up with a little paint (or not), fill it with soil, plant some seeds, and label it with a few simple instructions on how to help the new little plant survive. What a cute gift!
6. Reusable water bottle, coffee to-go mug, or sleeve
We sell a beautiful glass reusable water bottle at Planet Protein, but there are other great companies that sell reusable water bottles like Kleen Kanteen, Soma, or even go nuts with the self-cleaning option made by LARQ! Soma also makes adorable ceramic to-go mugs that any mama would be able to put to good use. Have you heard of a reusable sleeve? They exist! Gift mama with a reusable sleeve so she can skip the paper one next time she grabs a coffee on the go.
7. An experience for a gift
Did you get your adventurous side from your mama? Take her out instead of buying a gift this year! Go kayaking, hiking, take a yoga class, go paddle boarding, have a beach day.. You get the idea. Quality time is the best gift of them all!
8. "Ugly produce" delivery subscription
She'll spend less time grocery shopping and there will be less produce waste across the country! That's a win-win. We love brands like Misfit Market and Imperfect Foods, who deliver a box of imperfect produce to your door, that would otherwise go to waste. These items are still perfectly good to eat, but when produce looks less-than-perfect on the outside, it doesn't sell in the store. In our opinion, these misfits make for the best smoothie ingredients! 
9. Create a virtual card on Canva
Did you know that Mother's Day is one of the biggest card-sending holidays in America? Roughly 113 MILLION cards are given on Mother's Day every year. We have an alternative: skip the paper card, opt to design and download a virtual card to send instead! You can use a website like Canva to make a personal and meaningful virtual card. This creates zero waste and Mom will love having it on her phone to look back on any time!
10. Acts of service
Not just your mom, but any busy mom you know could use an extra hand. Do you have a friend who just had a baby? Start a meal train or go help out with chores! Have a friend with multiple kids? Offer to babysit so she can go on a date (or get some much needed alone time)! This is a great way to make any mama feel loved and appreciated.