Sustainable Valentine's Day Gifts, Treats & Recipes To Enjoy With Your Loved Ones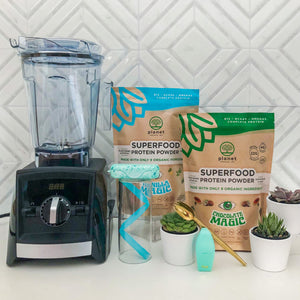 Sustainable Valentine's Day Gifts, Treats & Recipes To Enjoy With Your Loved Ones
Roses are red,
Violets are blue.
Valentine's Day is even sweeter,
When we celebrate with sustainable recipes & you!
This Valentine's Day we've teamed up with our nonprofit partner, Habits of Waste, and our friends at Planet Protein to bring you a few sweet recipes that are good for the planet, tasty, and healthy for you!

Did you know that committing to at least eight plant-based meals a week is on par with the carbon footprint reduction of switching to a hybrid automobile? That's why Habits of Waste has launched its #8meal campaign, encouraging people to be "imperfectly vegan" for eight meals each week.

Planet Protein makes it even easier to enjoy a plant-based diet. Not only is their protein powder made from eight organic ingredients (that you can actually pronounce), their packaging is thoughtful too. They offer a take-back program to ensure their protein powder packaging is properly recycled rather than ending up in a landfill (or somewhere else in the environment).
Remember, you don't have to be perfect to make a difference. If we all swapped out #8meals for plant-based meals every week, we would have the potential to make a huge impact.
What are you waiting for? Let's get cooking! And don't forget to grab your Foreverables so we can enjoy the sweet treats together when they're ready! 😘
If you really want to sweeten things up… head on over to our Instagram page and enter our giveaway for a chance to win a Vitamix, Planet Protein Powder, and a set of Foreverables for you and your Valentine!
Vegan Chocolate-Covered Strawberry Smoothie
Ingredients
1 cup plant-based mylk

1 very ripe frozen banana

1 cup frozen strawberries

2 scoops Chocolate Magic protein powder
Instructions
Combine all ingredients in a high-speed blender and blend until smooth. If you have a temperamental blender, leave the frozen fruit out to thaw for 5 minutes before blending.

Pour into a glass and suck it up with your Biggie Straw!
Flourless Vegan Protein Brownies
Ingredients
2 cans (15oz) chickpeas, drained

1 cup cashew butter (or any nut butter)

1 cup maple syrup

2 heaping scoops Chocolate Magic

5 tablespoons cacao powder

1 teaspoon sea salt

Optional toppings: shredded coconut, cacao chips, nuts
Instructions
Preheat oven 350F and line a 9x9 baking dish with coconut oil.

Combine all ingredients in a food processor and blend until smooth. Pour batter into pan.

Optional: sprinkle top of brownie batter with a handful of any toppings.

Bake on 350F for 30-45 min. Allow to set for about 10 min before serving.

Share with your Valentine and enjoy with a Final Fork!
Vegan Bananas Foster with Vanilla Magic Nice Cream
Ingredients
Bananas Foster
4 tbsp plant-based butter

½ cup light brown sugar

¼ cup dark rum

1 tsp vanilla extract

½ tsp ground cinnamon

1 tsp lemon juice 

Pinch of salt

1/2 cup roughly chopped pecans (optional)

3 bananas, sliced into coins
Vanilla Magic Nice Cream
2 14-oz cans of coconut milk

1 cup Vanilla Magic protein powder

½ cup Medjool dates

1 tsp vanilla extract
Instructions
For Vanilla Magic Nice Cream
Chill a loaf pan or other large, deep container in the freezer.

In a blender or food processor, blend coconut milk until smooth and creamy.

Add protein powder, dates and vanilla extract. Blend until thick and creamy.

Transfer nice cream to the chilled pan, cover and freeze for at least two hours. In the first hour of freezing, mix the nice cream every 20 to 30 minutes to prevent it from getting too icy.

Thaw for 10 - 15 minutes before eating.
For Bananas Foster:
Heat a large skillet over medium. Cast iron skillets work well for this!

Combine butter, sugar, rum, Vanilla, cinnamon, salt and lemon juice in the skillet. Whisk frequently until sugar has dissolved, about 3 to 5 minutes.

Add bananas to the skillet in a single layer and cook one side for 4 minutes. Do not stir or disturb the mixture. 

Flip the bananas, making sure they are fully mixed into the sauce, and cook for 3 minutes.

Remove the skillet from heat.

Serve Bananas Foster over Vanilla Magic Nice Cream and enjoy with your Final Spork!