Planet Protein's new vegan protein powder among the best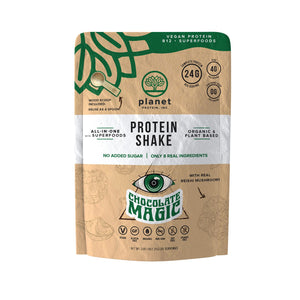 Planet Protein's new vegan protein powder among the best
Will Planet Protein's new powder change the game?
A Powerful Protein blend
Our powder features a three-part protein blend optimized for taste and nutrient density. A primarily pea protein blend is rounded off by sprouted quinoa and chia protein. This organic blend features a complete BCAA profile to complete its rich taste and texture.
Your daily B12
Planet Protein's powder will be a true one scoop solution for everybody! For our plant based customers, your daily needs for vitamin B12 will be supplemented in every serving.
Adaptogenic Reishi Mushrooms
The Chinese Mushroom of Immortality is known to aid in respiratory function, cognitive ability, reduce inflammation, and lower blood pressure. Our Reishi mushroom addition rests in the spirit of our powder, and is a life giving supplement for the whole body Planet Protein's powder is a versatile combination built to fulfill a myriad of nutrition needs. Whether as a quick protein shake or post-workout supplement, our new protein powder will take you to the next level.