Plant based Milks: Comparing 3 Choices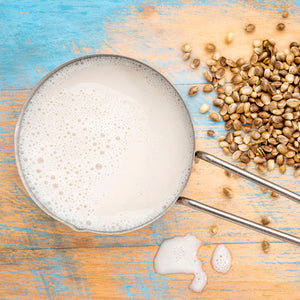 Plant based Milks: Comparing 3 Choices
The Vegan Revolution is here!
Perhaps the heaviest industrial hit thus far has been to the dairy industry. It's an easy switch, with no sacrifice to flavor. However, when viewing the nutritional and long term health differences, the easy switch becomes necessary. Milk, when made from a mammalian mother is her biologically perfect growth hormone for her young. When a human drinks milk, they're drinking the hormone made to turn a suckling calf into a 400 lb behemoth. Dairy can be scary!
What's the answer then?
Plant milk! But which is right for you? Here are three alternatives to ponder when addressing your own needs.
Almond Milk
Perhaps the most beloved alongside soy, almond milk is one of the first plant based milks to explode on the scene and put dairy under siege. Almond milk is creamy, delicious, and an incredibly empowering trade. Let's break it down
More calcium than cow's milk
Less than half the calories of cow's milk
Often enriched with riboflavin, thiamin, and magnesium
Hemp Milk
Willie Nelson's favorite! Actually, we're not sure what he drinks. But the oft maligned and incredibly versatile hemp plant gives us milk too! It's been recommended by many widely known doctors and health figures. Most importantly, it yields a delicious taste and is among the finest plant milks available, especially if you're a workout warrior!
Omega 3's! They're abundant (and important)
High in folic acid, protein, and calcium
A complete BCAA profile
Coconut Milk
A tropical favorite, and a key player in the kitchen. Coconut milk is a deliciously conventional take the exotic. Use it in curries, or over your cereal alike. This equatorial plant milk can be as sweet or savory as you want it to be. Fuel your culinary passion!
Rich in the B vitamins and key minerals
The fats in coconut milk may stave appetite and help you lose weight
A fatty milk, coconut milk is an amazing base for smoothies and cocktails. Depends on your night!
Where will your needs take you?
Plant milks are an exciting new world. Knowing that you're making one of the most powerful and easiest immediate steps in the right direction for your body is a decision to take pride in. Do your research, as there are many more varieties to ponder. Plant milk is possibility, creativity, and cruelty-free!