Plant-Based Recipes For Thanksliving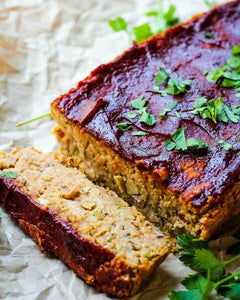 Plant-Based Recipes For Thanksliving
Plant-Based Recipes For Thanksliving
Thanksgiving is a day when vegans usually stay low-key due to cruelty at the table. But this time, instead of avoiding these gatherings, why not host your own 'Thanksliving' feast and invite people over? Sure, some may be a little skeptical of a vegan Thanksgiving, and it's probably something new to most people involved, including yourself.
But it's a great opportunity to show people that you can enjoy a feast without having to harm innocent beings. Here are 10 plant-based recipe ideas that will make your Thanksgiving celebration something to remember.
1. Classic Meat(Less)Loaf
Meatloaf is a Thanksgiving staple in many homes, so why not make a vegan version of it?
Source: keepingthepeas.com
The best part is that this dish can be cut into slices, just like regular meatloaf! And unlike meatloaf, it's made using tofu, lentils, and oats, so it's a lot healthier as well.
2. Tofurky Roast
Most people will expect Thanksgiving dinner to have a turkey as the main dish on the menu. Well, with this Tofurky roast, you can give the people what they want! We suggest making your own roast to make it more holistic, but Tofurky does taste like turkey if you want an option to purchase!
Source: ilovevegan.com
3. Mushroom Gravy
Now whether you're looking to pour it over your roast, mashed potatoes, or salads or simply have it as an accompaniment with a dish, gravy is a must at every Thanksgiving celebration.
Source: pillsbury.com
This creamy mushroom gravy will lend your dinner that authentic Thanksgiving touch, giving your guests an experience to remember.
4. Crispy Potatoes
Mashed potatoes are a staple at every Thanksgiving feast, but hey! This is Thanksliving, where things are done a little differently.
Source: goodhousekeeping.com
Instead of making the regular mashed potatoes, try out this crispy potato recipe with vegan cheese and give your spread an original twist. The best part is that the cheese is super easy to make; all you need is a bit of nutritional yeast. It's creamy, gooey, and will have your guests rethinking their ideas about vegan food.
5. Shepherd's Pie
While it's not exactly a staple at every Thanksgiving celebration, shepherd's pie has been a table favorite for generations. But remember, taste is also habitual, and creating a vegan version of someone's favorite dish can go a long way towards reconfiguring their ideas of what tastes good.
Source: oneingredientchef.com
Take this vegan shepherd's pie for instance; it's unlike anything your guests have probably tried before and includes sweet potatoes, lentils, and carrots.
Besides being absolutely delicious, it's also low in fat and rich in fiber and will make the after effects of a heavy feast a lot easier to deal with.
6. Pumpkin and Sage Soup
You want to have an entree that's light and hearty and will warm up your stomach to digest the rest of the dishes you'll be putting away.
Source: goodhousekeeping.com
This mild pumpkin and sage soup is a great way to start the feast as it fires up the digestion, making the body ready to handle all the rest of the food that's to come.
7. Potato and Broccoli Casserole
No Thanksgiving is complete without a casserole to accompany your dishes. And since the entire feast is plant-based, your guests are sure to have enough room to try out every dish at least once.
Source: ilovevegan.com
This creamy potato and broccoli casserole is a wholesome and yet gentle side for all the other dishes your guests are sure to try on this Thanksliving experience.
8. Quinoa Salad
This may sound like one of those 'trendy' vegan dishes that put people off, but a quinoa salad serves as a great break between meals.
Source: in.pinterest.com
Thanksliving banquets can be quite heavy, and a serving of quinoa salad between each course can provide that much-needed fiber to make the meal a lot easier on everyone's stomachs.
9. Vegan Gluten-Free Cornbread
While bread isn't absolutely necessary at Thanksgiving, it would be nice to have something to munch on as you dig into the rest of these delectable dishes.
Source: lovingitvegan.com
This light, fluffy cornbread recipe is perfect for the occasion.
10. Apple Pie
No Thanksgiving celebration would be complete without a side of apple pie to end the meal.
Source: foodnetwork.com
Luckily for your guests this is no ordinary apple pie, but one with a subtle, spicy pumpkin flavor! This recipe will bring your Thanksgiving feast to a delightful end and give your guests the necessary closure to a splendid meal.
It's An Opportunity!
While hosting a vegan Thanksliving dinner may seem like a mammoth task, it's actually an opportunity to prove to your non-vegan friends and relatives that being vegan doesn't mean having to restrict yourself.
In fact, you've got a lot more ingredients to work with and can create a diverse spread of dishes for occasions like this one.
So rise to the challenge and give your guests a Thanksgiving meal to remember.