Secret Flourless Protein Brownies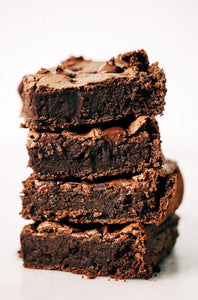 Secret Flourless Protein Brownies
Our friends at Evolved Meals created these Secret Flourless Protein Brownies! There is a 10/10 chance you are drooling. Can we just take a moment to appreciate that fudge gooeyness?! And this brownie is 100% superfoodie and gluten-free. WAHOOO!
Ingredients👇
• 2 cans (15oz) chickpeas, drained
• 1 cup cashew butter (or any nut butter)
• 1 cup maple syrup
• 2 heaping scoops Chocolate Magic
• 5 tablespoons cacao powder
• 1 teaspoon sea salt
• Optional toppings: veg choco chips, cacao chips, nuts
Directions👇
• Preheat oven 350F and line a 9x9 baking dish with coconut oil.
• Combine all ingredients in a food processor and blend until smooth. Pour batter into pan.
• Optional: sprinkle top of brownie batter with a handful of any toppings.
• Bake on 350F for 30-45 min. Allow to set for about 10 min before serving.
• Enjoy with plant based milk or your favorite plant based ice cream!!
If you make them, be sure to tag @planet_protein and @evolvedmeals. 😊