Simple Methods of Going Green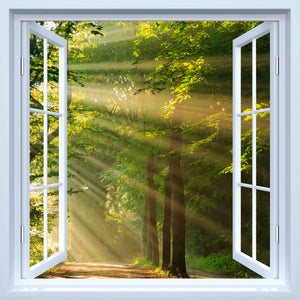 Simple Methods of Going Green
7 Ways To be Sustainable at Home
As we're sure you've heard, green is the new black. Many are starting to discover that going green is easy, inexpensive, and has very important for the world around us. It's all about knowing
how to live sustainably
and optimize your resources. Check out these simple steps towards living a more sustainable life.
Environmentally Friendly Lighting Make sure your home is filled with LED lightbulbs. They last longer and are far more efficient than incandescent or fluorescent lighting. Installing switches, dimmers, and motion sensors for individual lights will also cut down on your electricity bill significantly.
Natural Temperature Control When the seasons change, natural methods like opening windows or putting on extra layers are a great start to conserving energy. Other factors, such as proper insulation, weather-stripping, programmable thermostats, and a shaded landscape, can also help you form the optimal climate for your home without wasting energy.
Cut out Junk Mail Start by removing your name from the mailing lists of consumer reporting companies and direct marketers. You can also choose an electronic delivery method for your magazines and bills. Instead of tossing mail meant for previous residents, write "Return to sender: Recipient moved" on the front of the envelope and send it back to the post office.
Time Your Showers Get in the habit of taking quick showers. You'll be amazed by the amount of water you save. Purchase a waterproof timer or make it a little more fun with a shower playlist composed of songs that clock in at or below five minutes. You can also invest in a low-flow showerhead that controls water use.
Solar Energy Grid-tied solar kits, tubular skylights, and solar power attic fans are affordable products that can easily be incorporated into your home. If you're ready to go all-in, get started with Project Sunroof. It generates a personalized report of your home's specific energy needs, estimated costs and environmental impact.
Donate Your Items Recycle your household goods and clothing by donating them. Household donations are collected and distributed among charitable programs locally and nationwide. You can bring them to a convenient drop-off location or schedule an at-home pick-up. Helping others and the planet aren't the only benefits; household donations are also tax deductible.
Eat More Whole Foods Whole foods are not artificially colored, made synthetically, genetically modified, or filled with hormone additives. By ridding yourself of processed foods and their toxins you'll be able to decrease your greenhouse gas emissions, preserve species and their habitats, and conserve water. If you want to take it a step further, consider trying veganism.
There are plenty of
ways to be sustainable at home
without relinquishing little luxuries, and there are limitless resources available that can help you go green. Encourage others in your community to join you by sharing Planet Protein's guide on
how to live sustainably
.