Simple Vegan Breakfast Recipes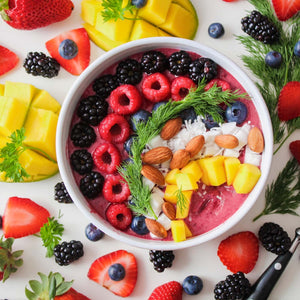 Simple Vegan Breakfast Recipes
Everybody's heard the saying, "breakfast is the most important meal of the day," right? It's important to start the morning off right with a healthy meal to jumpstart your brain and set the tone for your day. Whether you regularly forego breakfast in favor of more sleep, or you are simply getting sick of the daily apple and tree nuts, these simple vegan breakfast recipes are sure to shake up your morning routine.
Huckleberry scones
These
vegan huckleberry scones
are a perfect choice for someone who's got a sweet tooth-but isn't quite up for anything too crazy sweet. These scones are simple to make, and it's recommended to make them the night before, so you can take your time to enjoy them in the morning. Scones are not only a great start to the morning, but they're also a perfect grab-and-go breakfast item that won't add additional time to your morning routine. Here are the ingredients you'll need:
Organic wheat flour
Organic pastry flour
Vegan egg
Coconut milk
Baking powder
Sugar
Sea salt
Organic coconut oil
Frozen huckleberries (can substitute for blueberries or chocolate chips)
Small lemon
Crispy Hash brown Haysticks
These little personal sized hash brown patties are sure to start your morning off right. These are a perfect option for the brunch enthusiast who prefers their day to begin a little more on the savory side. Simply make these when you get up, pop them in the oven, go about your typical morning routine as they bake, and take them out to enjoy the perfect amount of golden and crispy.
Hash brown haysticks
are easy to make and even easier to enjoy. Here are the ingredients you'll need:
Russet potatoes
Shallot
Parsley
Corn
Vegan butter (can substitute for coconut oil)
Cornstarch
Sea salt
Black pepper
Fresh fruit and veggie tray
Who says fruit and veggie trays are just for hors d'oeuvre at parties? Cut up your favorite fruits and veggies, lay them out, and dip them in whatever makes your heart happy. Totally customizable, they are an ideal choice for a picky eater, (there's no shame in being picky, you like what you like, and you know it!). A plate of your favorite healthy treats is sure to wake you up and start your day off on a good note.