Staying Healthy on the Go: Easy Vegan Recipes for Road Trips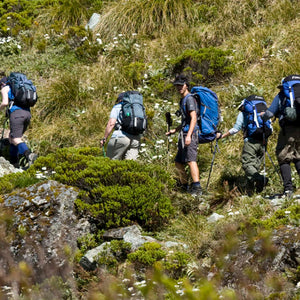 Staying Healthy on the Go: Easy Vegan Recipes for Road Trips
Having access to
clean, filtered water
on your road trip is crucial, but it's just as important that you prep enough snacks for the ride. Falling into the fast food trap while you're away from home can be all too easy, so you need to pack enough healthy alternatives to keep you feeling full. Those who follow a vegan diet can find the task of acquiring on-the-go snacks even more difficult. If you're looking for a few vegan treats to keep you energized, these easy vegan recipes for road trips are just what you need.
If you want a healthy, vegan alternative to a classic snack food, this twist on the fan favorite is perfect for your trip.
Ingredients:
1-2 tablespoons nutritional yeast
1/2 teaspoon garlic powder
3/4-1 teaspoon sea salt
2/3 cup all-purpose flour
1/4 cup oat flour
3 tablespoons yellow cornmeal
1/4 teaspoon baking powder
3 tablespoons olive oil
2-4 tablespoons cold water
Tip:
You can use vegan butter in place of the olive oil to replicate the original snack's consistency.
This crispy and flavorful snack is the protein-packed treat you need on a long car ride.
Ingredients:
1 (16-ounce) bag shelled edamame
1/4 cup white vinegar
3/4 teaspoon salt
1/8 teaspoon pepper
Your tropical getaway is only as far away as a handful of this brightly colored, vibrantly flavored trail mix.
Ingredients:
1/4 cup macadamia nuts
1/4 cup raw cashews
1/4 cup banana chips
1/4 cup dried pineapple
2 tablespoons unsweetened coconut flakes
Packed with protein, fiber, and vitamins, this hummus is crucial for any excursion.
Ingredients:
1 pound carrots
1/2 teaspoon + 2 tablespoons olive oil
1 (19-ounce) can chickpeas
3 tablespoons tahini
4 tablespoons fresh lemon juice
2 cloves garlic
1/2 teaspoon cumin
1/2 teaspoon sea salt
Featuring tart cherries, raw almonds and our Chocolate Magic vegan protein powder this recipe blurs the line between guilty pleasure and healthy snack.
Ingredients:
1 cup pitted dates
1 cup dried cherries
1 cup raw cashews
1 serving Chocolate Magic vegan protein powder
1/4 cup raw almonds
1/2 teaspoon sea salt
1/2 teaspoon vanilla extract
1/2 cup dairy-free dark chocolate chips
You don't have to stick to unhealthy snacks or fast food while on vacation. These vegan recipes will give you the energy you need to make a few memories—without skimping on taste.