The Health and Cost Benefits of Growing Your Own Food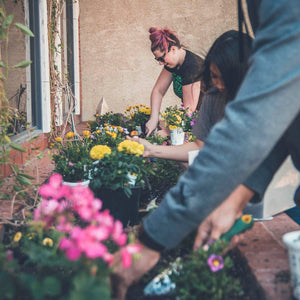 The Health and Cost Benefits of Growing Your Own Food
At-Home Benefits of Growing Your Own Food
Life can get pretty overwhelming. We know that when there's a lot on your plate, it can be hard to take time and evaluate what's
on
your plate. Many busy families rely on frozen dinners, and even when they do find the time to grocery shop,
their produce is not up to par
. Fresh, home-grown foods provide an array of benefits, but many people find it hard to even attempt this lifestyle; their justification is either that it's too expensive or that they have to go out of their way to purchase organic food. There's a solution to this: starting your own vegetable garden. Below are just a few of the
Benefits of Growing Your Own Food
. Controlled Crops When you're in charge of your fruits and vegetables, you can be 100% sure that they're not spoiled with unhealthy additives. You can avoid all the unnecessary chemicals, pesticides, herbicides, and fertilizers that are commonly used on commercial produce. Support Local Business Purchase your seeds and supplies at a local garden market to support small business. These shops often carry a wide selection of plants, equipment, garden accessories, and outdoor décor. Whether it's a
local garden store
in Oregon or an urban greenhouse in New York, you'll be sure to find everything you need to plant, grow, and enjoy the
benefits of growing a garden
. Many local stores are also staffed with passionate, knowledgeable individuals who can guide you on how to start your own vegetable garden. Slash Your Budget If you stick to the basics, vegetable gardening doesn't cost that much. The seeds and supplies you buy will pay for themselves over time thanks to the amount of food each plant produces, and the fact that equipment can be reused. Aside from that, the taste of fresh produce alone will make you swear off the grocery store for good. You'll see signs of savings in no time! Health Benefits Gardening is good for you in a lot of different ways. People find that, in general, gardening provides
a variety of physical and mental health benefits
. It's also important to note that fresh produce is rich in nutrients, and
studies show
you're likely to eat more servings of fruits and veggies if you have your own vegetable garden. Home vegetable gardens come in many shapes and sizes—whether it's a few pots on a window sill or a large plot in the backyard. Starting a vegetable garden may seem like a lot of work, but the
benefits of growing your own food
are completely worth the effort.