The Real Reasons to be Fired Up about Pumpkin!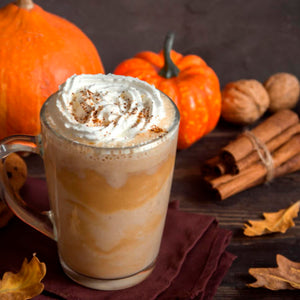 The Real Reasons to be Fired Up about Pumpkin!
There is no greater seasonal frenzy
Than that of the pumpkin. The holidays might have peppermint and cinnamon, the summers may bring us an array of delightfully refreshing flavors, but nothing encapsulates a nation quite like pumpkin. In the minds and hearts of millions of Americans, the Autumn Equinox is an official kickoff of pumpkin season. The myriad of desserts, soups, curries, and everything in between is a warming and welcome sensation that has now become its own de facto holiday. But what makes pumpkin even more special is the profoundly impressive nutritional profile of this delectable squash variety. Don't throw those old Jack-o-Lantern's away! Here's 5 of the best nutritional attributes pumpkins have to offer.
Pumpkins are super high in Vitamin-A
Vitamin A is one of the core vitamins every human being should seek to intake. Among its many benefits are the reparation of soft tissues, reinforcement of white blood cells and the immune system, and the strengthening of skin, teeth, and bones.
Steel up for Spring with Beta-Carotene!
Beta-carotene is a carotenoid that lends the orange pigmentation to many vegetables of reddish and orange varieties. It is readily converted into Vitamin-A by the body. A potent antioxidant, beta-carotene is also renowned for sun protection. Eat orange veggies for Summer!
Lutein for the eyes
Lutein is one of the most powerful carotenoids and part of the reason carrots are known as a major benefit to the eyes. It is one of two carotenoids found in the human eye, and is known to protect and filter light, thus it is remarkably effective for those with ocular illnesses and degeneration.
Calorie/Nutrient ratio promotes weight loss
Low calories, high nutrients, remarkable versatility. Pumpkins are a feel-good food. Pumpkins are high in fiber, and pack in around 50 calories per cup. It's as filling as any starch or squash and loads up your antioxidant intake with little to no caloric sacrifice
SEEDS!
All of these benefits, and we haven't even mentioned the seeds?! Yes, it's true. Possibly the most nutritious part of the pumpkin is at the root of the patch. Pumpkin seeds, also known as pepitos can be eaten raw, topped on smoothies and soups, roasted, and salted. The crunchy little centerpieces of every pumpkin has us feeling like we cracked open a treasure chest every time!