Tips On Raising A Plant-Based Child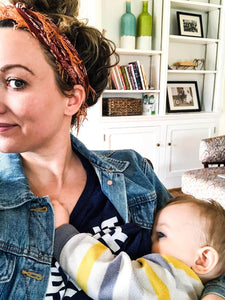 Tips On Raising A Plant-Based Child
More and more, moms are moving away from tradition when it comes to nutrition. Over 43 million Americans, in fact. But why? A number of reasons and for each person, it is unique. Some do it for the animals exclusively, others do it for the planet. Some for health reasons! They are all valid.
For me, it's nutrition and compassion. If you've ever been a breastfeeding mom, you'd know it's hard work to lactate, produce milk and feed your infant. I simply cannot imagine the pain and torture the poor mama cows endure once their baby is plucked from the breast at birth, and permanently used for lactation for not their babies, but for humans. The thought makes my heartache.
What made me go plant-based:
My mother and father both have inflammatory bowel disease. My mother almost died from her Chron's disease when I was little, until she was diagnosed and treated for it. She had dropped down to 98 pounds and was losing her hair. And my father has a mild case of Ulcerative Colitis. In college, I started to have my first inflammatory bowel flares.
I was missing social events because my stomach hurt so bad and I just felt terrible all the time. My friends and boyfriend (now husband) were worried about me and told me to see a doctor. The docs had me do a food diary for two weeks. We found for me, gluten and dairy were destroying my digestive system.
After I removed dairy, I was a new person. I felt better than I've ever felt in my life. In fact, I had so much new energy, I took up fitness pretty heavily. I started going to the gym 5-6 days per week and found another passion of weight-lifting. I lost around 20 lbs and kept it off! My body changed, my energy levels changed and I was doing better in school. Everything around me improved and people were noticing. I was unstoppable.
For the last 7 years, I've been dairy-free. And in those 7 years I've learned I'm nuts about vegan milk.. cheese.. and ice cream… literally.
In these 7 years, I've also learned how amazing I feel off dairy! I want everyone to feel the same. So many people ask me about being dairy-free, so I wanted to make this guide for those who are ready to let it go for good. Not only is it healthier, but it's also actually pretty tasty.
Roughly 60% of people are lactose intolerant, but I actually feel like nearly everyone is as more and more research shows that the human body isn't designed to break down lactose after infancy.
However, because of the plant-based movement, documentaries, books, and information now available, people are becoming more in tune with their bodies (and more in sync with the planet and its living beings!) that they are realizing that a plant-based diet solves a lot of their problems.
So now, I'm a mom of two and we live plant-based
.
YEP. No cheese, no cow milk, no dairy, no dairy yogurt, no eggs… all the stuff we are told to give our kids once they are old enough to start solid food. We simply do not. When it comes down to it, dairy is presented to us (as moms/parents) to help our babies meet their nutritional needs for our children's development. But it's 2020, and all of the key sources of nutrition can 100% be met by plants!
Key nutritional "concerns": for plant-based children:
So, you tell your friends, family, or pediatrician that you're plant-based. Here come the big questions for concern, and here's what to know:
Calcium-
There are many
plant
-
based
sources of
calcium in plants
, including certain leafy green vegetables like kale, broccoli, tofu, tempeh, tahini, almonds, legumes, oranges, seaweed, and more. Typically, plant-based foods are higher in calcium.
Protein- This is always a big concern by curious folk, but don't worry.
If your kid won't eat meat, don't force it! I see a lot of moms push meat or dairy because
they worry about protein.
Kids are pretty intuitive, and I've learned to trust that they ultimately know what they need (minus the occasional fit for candy!) For
plant-based protein
, we incorporate nuts, seeds, legumes, and a daily Planet Protein Chocolate Magic smoothie. It tastes like a chocolate milkshake and my kid is always eager to drink his.
Iron:
Good
plant
sources of
iron
include lentils, chickpeas, beans, tofu, cashew nuts, chia seeds, hemp seeds, pumpkin seeds, kale, dried apricots, and raisins. Other sources include
quinoa, pea, and cacao
.
Fatty Acids:
For brain and eye development, it's
important to incorporate healthy fats
in our kiddos diets. We love adding avocados, hemp seeds, avocado oil/coconut oil, nut butter, seeds, and more.
Vitamin B12:
Luckily, this is an easy fix. For us, it's already in our Chocolate Magic daily smoothie. Planet Protein just makes it easy and delicious! ;)
Common questions moms ask me about making the switch for the kids:
"BUT THEY LOVE CHEESE!"
Solution
: This is the hardest one, I can't lie. Because me and cheddar cheese were once bff's. But… I still have a solution. There are SO MANY delicious dairy-free cheeses. Chèvre? Mozzarella? Ricotta? Parmesan? Yep-there are honestly tasty alternatives. My favorite brands are Miyokos, Kite Hill, Daiya, Heidi Ho Organic, Go Veggie, and Nut Cheeze. You can find them at almost any retailer! No excuses
😉
"BUT WE CAN'T LIVE WITHOUT ICE CREAM!"
Solution
: Us either! But have you tried dairy-free ice cream? My guess is no because if you had, you know you aren't missing much! Dairy-free versions are so close to the "real deal," it's actually shocking. The texture is there, the creaminess and the flavor. All there. Promise. Many of your favorite ice cream chains and brands are catching on, too, as so many now offer a dairy-free/vegan alternative. Ben & Jerry's even has vegan ice cream, too. BAM. Even better, Planet Protein posts easy and holistic "banana nice-cream" recipes on their Instagram, @Planet_Protein.
"BUT WHAT ABOUT YOGURT"
Solution:
It is so easy to find dairy-free alternatives. & you will hardly know the difference. Most dairy-free yogurts are made from nut milk, like coconut or almond. You can also find them at almost all grocers & retailers. My favorites are So Delicious (almond & coconut-based), CoYo (coconut-based), Kite Hill (almond-based), Foragers (cashew based)..and they are sinfully soooo yummy.
"BUT WHAT ABOUT MILK?!"
Solution:
What about it? Don't mention calcium, because most dairy-free milk has 50% MORE calcium than dairy milk. And there are no animal boobs involved, or hormones, or puss. ACK! Gross. It's soooo easy to replace dairy milk with dairy-free milk. In recipes, it's a simple 1:1 replacement. My favorites are almond milk, pea milk, flax milk, coconut milk, oat milk, rice milk, hemp milk… so many plants can be "milked". Gimme all the plant milksssss! Taste? Even better. Nutrition? Even Better. Eco friendly? Yep. We are the only species that drinks another animal's milk! Exploring plant-based milk is fun!
"BUT WE USE A LOT OF BUTTER."
Solution
: 1. You should stop that. And 2. Have you tried vegan butter? It's literally delicious and tastes the exact same.
I hope giving you the above alternatives is a helpful push if you've been trying to quit dairy or transition into a plant-based lifestyle.
Peace, love & plants,
BB
By Brittany Bacinski, Mom of 2 (3 years old, 1 year old)