Vegan Monkey Bread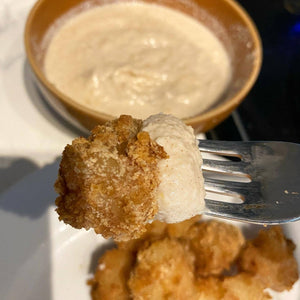 Vegan Monkey Bread
Vegan Monkey Bread!!!
We don't know about you, but the Planet ProTeam grew up consuming Cinnabon on the reg! Those decadent rolls abundant with flavors galore. But when our team went plant-based, we realized what we thought were decadent flavors were really artificial flavors, and their cinnamon rolls have 880 empty calories & 58 grams of white sugar each... YOWZA!
❌
The good news? Eating plant-based isn't boring because you get the opportunity to recreate unhealthy food items and turn them into nutrient-dense goodies! We don't miss Cinnabon because we found an EPIC REPLACEMENT that's heavenly. And by adding your Chocolate Magic powder to this recipe, you are turning this monkey bread into an immune-boosting, protein-rich, antioxidant abundant wonder bread!
Ingredients👇
•1 bag of cauliflower gnocchi from Trader Joes
(
or make your own!
)
• 1 tablespoon cinnamon • 2 tablespoons coconut oil
• 2 tablespoons coconut flour • 4 tbs Chocolate Magic protein
• 1/3 cup nut milk (add more if needed) • 3 tablespoons maple syrup • 2 tablespoons coconut sugar (or more depending on your sweetness preference
)
Directions👇
1. Place cauliflower gnocchi in a bowl.
2. Let it thaw, then add in all the ingredients.
3. Throw it into a baking dish @ 350F for 30-35 min.
4. Make this cashew vanilla cream dipping sauce!
When we tried this creation, we were in awe.The thick cashew cream dipping sauce really adds a nice touch to these crispy yet gooey monkey bread bites. The pictures don't do this creation justice, Planet Fam. Try it out for yourself! You wont be disappointed!
🌱