Vegan Stuffing! 4 Unique Ways to Win Thanksgiving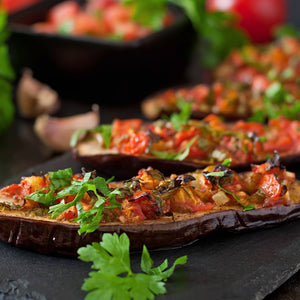 Vegan Stuffing! 4 Unique Ways to Win Thanksgiving
Vegan Stuffing, 4 Unique Ways!
If there's one thing vegans and meat eaters can agree on, it's the fact that the stuffing may be the greatest and most beloved Thanksgiving dish of all. Thanksgiving food in many ways reflects the melting pot of America, with families of all backgrounds putting their own spin on these classics.
Here's 4 Unique takes on this American classic.
Crock Pot Stuffing
by:
Fat Free Vegan
The crock pot is the best friend for the busy mom, bachelor, and career-minded urbanite. It's an easy way to leave home, and return to a ready made buffet. What's better, there's a stuffing recipe for it! While most ThanksLIVING recipes are labor intensive and require long hours over the oven, this is the alternative, at no sacrifice to quality!
Vegan Sourdough Stuffing
by: Vegan Huggs
Bread matters. A lot. In most stuffings it makes up the majority of the overall mass, and depending on how it's prepped, how much liquid is added, and the cook time. That's part of why a simple bread choice makes all the difference. Enjoy this delicious sourdough based recipe for a more complex flavor profile in every bite.
Apple Hazelnut Stuffing
By: My Darling Vegan
While some stuffings are simple and savory, others, like this apple hazelnut stuffing are a complex symphony on the palate. The sweetness of the apple pierces through with each bite, rounded out by the delicious nuttiness of hazelnut, the savory tastes sandwiched in between. Level up!
Vegan + Gluten Free Stuffing
By: A Saucy Kitchen
We couldn't serve up something a little different without an option for our gluten free friends! This is one of the finest recipes we've found. It's quite possible, and easy, to cook up a fine vegan stuffing sans gluten! This one's for you fam.