Vegan Thanksgiving: Our 5 favorite recipes!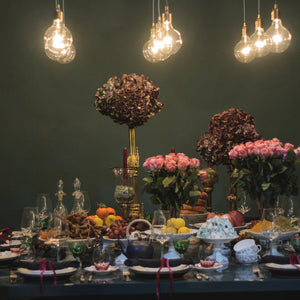 Vegan Thanksgiving: Our 5 favorite recipes!
Vegan Thanksgiving: Our 5 favorite recipes!
For many conscious of animal lives, Thanksgiving is a baleful holiday. While the gratitude, family, and relaxation still play a part, some find the time around the table to be a yearly confrontation over veganism. The same jokes persist year in and year out, about the second cousins and great uncle's harassing any tableside vegans over their abstinence from meat. Whether it's to try something new or flip the script and enjoy Thanksgiving, check out these 5 vegan Thanksgiving recipes to let a little more plants on your table!
Green Bean Casserole
By: Delish
This savory, creamy classic is a staple of American comfort food. Unfortunately atop the string beans is a dousing of condensed, dairy based cream of mushroom soup and canned crisped onions. We're thrilled to see the internet deliver! This is an easy recipe with many common ingredients that may be routinely available at home already! Click
here
for the recipe
Simple Vegan Stuffing
By: The Minimalist Baker
If every American was surveyed, you might find that stuffing is the favorite Thanksgiving dish, and unlike a living turkey, is much easier to veganize! While we're suggesting one of our favorites, stuffing has as many diverse takes and flavors as any holiday recipe. Be sure to try a few and find your favorite! Click
here
for the recipe.
Mushroom Gravy
By: NYT Cooking
Gravy. Another American classic, and another way to tip over by the time Thanksgiving is over. Gravy is often a combination of animal based broth, butter, and salt. The potential for gravy to be dreadfully unhealthy is apparent. Fear not! there's options out there. This recipe has a little hint of soy sauce as the linchpin, and again is an affordable, easy recipe to recreate! Click
here
for the recipe.
Tempeh Shepherd's Pie
By: Well Vegan
And now for the main course! We obviously can't replace the bird, but we don't want to anyway. There are many varieties of entree to replace turkey on your center platter, but among the most savory and comforting we found this tempeh shepherd's pie to be the most intriguing. Let us know what you think! Click
here
for the recipe.
Gluten Free Pumpkin Roll
By: Meaningful Eats
Vegan
and
gluten free? There's something majestic about a thick slice of this amazing (and portable) dessert. Recreate that pumpkin pie flavor without the hassle of pie crust and the delicacy of transportation. Click
here
for the recipe.