Veganized and Healthified Chocolate Magic HERSHEY'S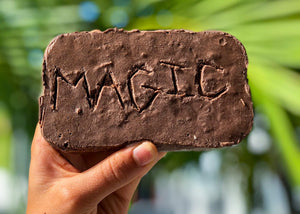 Veganized and Healthified Chocolate Magic HERSHEY'S
Research shows that that cacao is rich in flavonoids, which have antioxidant properties & can increase cardiovascular function. Adding inflammatory milk filled with hormones, pesticides, and pharmaceuticals to this wondrous superfood just seems silly, doesn't it?!
We ditched Hershey's white sugar, milk fat, GMO soy, artificial flavors, lactose, and "natural flavors", and swaped them for holistic AF ingredients. Our simple 6 ingredients make the perfect chocolate bar! Full of complete protein, a full serving of B12, and antioxidants galore.
🌱
Ingredients👇
• 2 scoops Chocolate Magic
• 1/2 cup plant mylk (add more if needed)
• 1-2 tbs cacao powder
• 2 tbs maple syrup
• 2 tbs coconut oil
• 1 tbs cacao butter
Directions👇
1. Process all ingredients.
2. Freeze 5 hours, store in freezer.