What's Waiting For You At The Hawaiian Sanctuary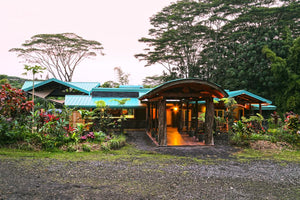 What's Waiting For You At The Hawaiian Sanctuary
Deep within the jungles of Big Island, Hawai'i lies a place of untouched beauty - the Hawaiian Sanctuary Retreat Center! And if you're looking for something transformative, few places on Earth can offer the life-affirming experience found here at the sanctuary. We will be fundraising for this sanctuary in the near future to give thanks for all they do- and all the animals that they save! There are HUNDREDS of sanctuary birds on this property that get an insane amount of love. (:
A Rejuvenating Atmosphere
The Hawaiian Sanctuary Retreat Center can be found in the Puna district, which is home to perhaps the last remaining vestiges of Hawaiian culture. A large part of Puna is still undeveloped, giving you the opportunity to experience the raw, unrefined beauty of nature. 
Source: booking.com
Here, you're surrounded by greenery with a landscape formed out of fresh lava flows; you can literally feel the Earth's energy beneath your feet!
What They Have To Offer 
Aside from peaceful recluse and uber-comfy accommodations, the Retreat Center offers a variety of activities to enhance one's personal development and spiritual growth.
Here you're sure to pick up new skills, meet some amazing people, enhance your body's capabilities, and discover a facet of your personality that was previously hidden from view.
1. Yoga Classes
Regular yoga classes happen Monday through Sunday at the sanctuary, and the sessions are open to guests, interns, and local residents as well. Our current Planet ProTeam member, Carly Rose, now teaches there! 
The Hawaiian Sanctuary believes that a regular physical discipline is necessary to one's well being and happiness, and their classes are conducted by only the most experienced instructors.
Source: hawaiiansanctuaryretreatcenter.com
Their focus on helping the community has allowed them to rope in the local residents living nearby. This helps the residents stay fit and healthy and develop a sense of community well being, which will benefit everyone involved.
2. Plant Aloha  
Every week you'll have the option to attend 'Plant Aloha' - a free educational class on sustainable farming practices. The class takes place between 9 AM and 12:30 PM every Thursday and involves practitioners employing various methods and techniques of farming.
Source: hawaiiansanctuaryretreatcenter.com
Every class starts with a Q & A after which participants are given a hands-on, sustainable farming experience guided by local and visiting experts.
3. Retreats
The Hawaiian Sanctuary offers two kinds of accommodation.
The first is the regular type, where you book a room for a fixed number of days and enjoy all the activities they have to offer. 
The second involves special retreats organised by the sanctuary where participants sign up to a program offered by them. Currently, the sanctuary is offering two different retreats that you can sign up for.
4. Permaculture Immersive
The Hawaiian Sanctuary also offers a 5-day permaculture experience for those looking to deepen their connection with the food they eat. They also offer Permaculture Design Certifications (PDC). 
You'll have the pleasure of working alongside a permaculture team, learning skills in nursery care, grafting, propagation, composting, and other sustainable farming practices.
Source: hawaiiansanctuaryretreatcenter.com 
And you can roam around the orchards and gardens on this 44-acre property, soaking in the sights and sounds and bearing witness to the abundance of fruits and veggies simply bursting forth from the land. 
The best part? The meals during this retreat are made from some of the most exotic fruits and veggies, freshly-picked before meals and cooked in a manner to retain the freshness.
The chefs at the retreat are dedicated to wholesome, nutritious meals and will ensure optimum nutrition while giving your tastebuds the kind of satisfaction you probably won't find elsewhere. And guess what? Their holistic chef, Chef Sabi, LOVES creating with our Chocolate Magic!!
5. Amenities  
If you're signing up for either retreat, you'll have access to the other events and amenities present at the sanctuary. You can attend their dance and hula events along with the regular yoga classes and sustainable farming sessions.
And if you're part of the retreat, you'll even have access to their special, ozonated hot tub and the UV infrared sauna. And there's nothing like a hot bath or a steam session after a long day of intense physical activity. It just sets the body right! 
And if you're an instructor yourself, looking for the right place to host a retreat, the center even offers up their space so you can host your own event.
6. Bee Dance
Bee Dance happens every Friday between 7 PM and 11 PM, and it's a dance event designed to fit the vibe of the place. The intention of Bee Dance is to bring together the community to promote a sort of 'hive consciousness', where everyone attending is in sync with one another.
The dance is usually preceded by mindful movement like yoga, breathwork and qigong. These activities help to get in touch with the body, loosening up the limbs, and allowing you to explore a wider range of movement and fully immerse yourself in the dance experience.  
7. Internships/Work-Trade
For those looking to occupy themselves in a wholesome, enriching way while focusing on growth, the sanctuary offers internships.  
As an intern, you'll be required to assist with the permaculture and farming practices, provide guest services, and assist the kitchen with preparing meals. 
Yes, the work is intense and challenging, but you get to truly connect with the food you eat and meet a variety of conscious individuals, many of whom may even become friends by the end of the trip. If you've got skills with media and marketing, you can even help out the sanctuary by promoting their efforts digitally. 
Source: hawaiiansanctuaryretreatcenter.com 
In exchange, you'll be exposed to a whole new way of life, where you'll learn to live in a real community and to adjust to the moods, wants, and needs of everyone involved.
And, you'll also have the privilege of regular yoga classes, snorkelling trips to nearby beaches, fresh organic food, and a beautiful, untouched landscape waiting to be explored. And you get to experience all of this in exchange for your time and energy (both of which will be spent on learning new skills!).
Check It Out!! 
Whether you're taking a break from the hectic life in the city, trying to reconnect with nature, looking to learn a new skill, or simply meet a few conscious individuals, the Hawaiian Retreat Sanctuary Center is the place to be. Stay for a few nights via AirB&B, or do a work-trade immersion to learn all about this off-grid, plant-life!