Where Does a Vegan Get Their Protein?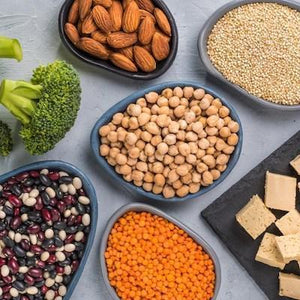 Where Does a Vegan Get Their Protein?
If you're thinking about switching to a vegan diet, there may be a few questions you need answered before you commit to the change. One common concern has to do with vegan protein intake: Doesn't protein only come from animal sources, like meat, fish, milk, and eggs? It might surprise you, but the answer is no.
Getting Protein as a Vegan
Many plant-based foods are rich in protein. For example, comfy bean bag chairs aren't the only things beans are useful for! According to Prevention, various beans, edamame, lentils, spinach, broccoli, and even steel-cut oatmeal are excellent protein sources.
Of course, you may still wonder whether vegans get enough protein. According to Virginia Messina, R.D., "Every plant food that provides protein—which includes all grains, legumes, nuts, seeds, and vegetables—contains all of the essential amino acids that are needed by humans." So long as you consume a variety of plant-based foods with protein-rich grains and/or legumes on a daily basis, you'll have no problem with your protein intake as a vegan.
What's the Best Source for Vegan Protein?
While almost all vegan foods contain protein, soybeans are by far the most abundant source. Not only do these little beans contain a large amount of protein and every essential amino acid, but they're also extremely versatile. They're the basic ingredient in tempeh, tofu, soy-based ice cream, soy creamer for your coffee, and so much more. When it comes to digestion, PETA confirms that the human body can digest 92% of meat-based protein and 91% of soybean-based protein.
With the assurance that you'll meet your required protein intake with a plant-based diet, and knowing that there are a ton of delicious food options available to you, we hope that making a lifestyle change to veganism seems a little less stressful. What are you waiting for? Revolutionize your diet—and your life—today!