Your Guide to 5 of the Best Vegan Restaurants in Portland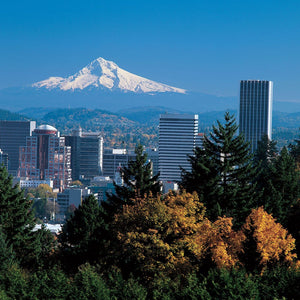 Your Guide to 5 of the Best Vegan Restaurants in Portland
You shouldn't have to settle for subpar salads to adhere to your vegan lifestyle. These four restaurants understand that being vegan doesn't mean giving up your favorite foods. High in flavor, these spots are some of the best vegan restaurants in Portland.
Virtuous Pie
Originally founded in Vancouver, Virtuous Pie brought their vegan pizza creations to Portland. This restaurant is extremely accommodating to people with dietary restrictions, offering gluten-free, allergen-friendly, soy-free, and paleo options upon request. Each month Virtuous Pie features a special recipe pizza; May's pie is the Morels + Ramps, which is topped with morels, asparagus, ramps, and smoked salt. A portion of all sales at Virtuous Pie are donated to organizations that support animal rights and environmental causes, so whether you buy your pizza by the pie or by the slice, you can rest assured that the proceeds go to a good cause.
Rabbits Café
With two locations in Portland, the delicious dishes at Rabbits Café are never more than a quick car ride away. Open every day from 10 a.m. to 3 p.m., this quaint café is the perfect spot for a quick lunch. Dine in to enjoy their chickpea masala bowl or take your lunch to go with one of their grab-and-go items. You can pick up a vegan milkshake or kombucha ice cream float for a quick afternoon treat too.
Farm Spirit
For an upscale dining experience that's perfect for your next date night, look no further than Farm Spirit. One of the most elite vegan restaurants in Portland, Farm Spirit offers a multi-course tasting menu that includes new dishes each month. Reservations are required to dine at Farm Spirit and can be made through their website.
Blossoming Lotus
Start your weekend off right with brunch at Blossoming Lotus. This restaurant uses locally sourced ingredients to create their 100% plant-based dishes for breakfast, lunch, and dinner. Many of their dishes are gluten-free and soy-free, as well, so everyone can enjoy their meal. Stop by during happy hour to taste one of their refreshing specialty cocktails like the Red Magnolia, which is beet infused vodka, lemon, and lime mixed to perfection.
Homegrown Smoker
Located just 20 minutes outside of Portland, this restaurant brings Southern soul food to the Pacific Northwest. Homegrown Smoker's menu is full of delicious, hearty meals that comfort you on even the rainiest days. Their Macnocheeto combines smoked soy curls, BBQ beans, and macnocheese for a new twist on classic burritos. This restaurant also offers gluten-free options, like their grits bowl and fried pickles. Still hungry? Continue your cross-country vegan taste tour with our guides to Los Angeles and Miami.