Planet Protein Bags are NOT Compostable. Here's Why.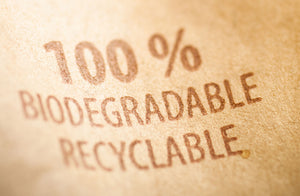 Planet Protein Bags are NOT Compostable. Here's Why.
Compostable and biodegradable products and packaging are gaining popularity – and for good reason! In an ideal world, everyone would have compost bins in their backyards and the use of plastic would be scarce. Unfortunately for now, the reality is that many of us (likely the majority) do not have at-home compost systems put in place. And while some cities offer local composting programs, it's not quite the norm yet. Plus, these programs often come with a fee, which may turn off some residents. When Planet Protein first launched, we were aware that composting wasn't accessible to everyone. That's why we were determined to work toward the next best thing!
First, we need to take a step back and explain the basics:
What is Compost?
Composting is when organic materials are decomposed into simpler compounds, which is great for enriching soil, among other things. There are many ways for us to compost our waste at home.  Between a lack of knowledge within the general public and a lack of local composting facilities, the vast majority of compostable items are thrown away or recycled, which is far less green than it sounds.
Do Biodegradable Items Degrade in Landfills?
The short answer? No. These organic materials are biodegradable when oxygen is present. However, most landfills are anaerobic because the waste is compacted so tightly that air isn't able to get in. Some studies show that if and when these materials finally do break down in landfills, they emit a greenhouse gas called methane, known to be roughly 30 times stronger than carbon dioxide. No, thank you.
And as for recycling these biodegradable products? Well, they can't be. As a result, most of the compostable items sent to recycling facilities are sent to a landfill in the end, regardless.
In short, compostable items are good for one thing: composting. And that's it.
What did we do instead?
If you've followed Planet Protein for any amount of time, you've hopefully taken notice of our passion for sustainability and transparency. We made the decision to sustainably source all of our ingredients and materials. We designed resealable bags made out of kraft paper and minimal plastic, which makes our bags both recyclable and reusable. These bags use about 85% less plastic than the commonly used plastic tub. We feel, given the reality of the systems in place, it's our duty to lower the carbon footprint of these bags on our end. You can rest easy knowing we are constantly on the lookout for ways to make our products, and company as a whole, more sustainable.
So, you can't plant our bags in your garden, but here's what you CAN do:
Send it back to us! You can learn more about our

send-back program

here. We have an amazing partner who will do cool things with your old bags!

Rinse it, let it air dry and use it to tote snacks on the go (it's resealable!).

Use it to germinate seeds. Simply damp a reusable cloth, sprinkle on some seeds, fold the cloth and seal it inside the bag until they sprout. Plant and watch your green thumb do its magic! 

Use it to store compost scraps in the freezer before dropping off at your local facility.
At Planet Protein, we're committed to being as transparent as possible. We've done our research and we continue to search for the most eco-friendly packaging out there for our Chocolate Magic and Vanilla Magic protein powders.  We're currently using the least amount of plastic possible and our materials are carefully sourced. While we know there is always room to grow, we take pride in knowing that we're making a serious effort to lower our carbon footprint and we'll always be on the lookout for the most sustainable options. And, OF COURSE, just by purchasing a plant-based protein over an animal-based protein, you're choosing the more sustainable option!
Into upcyling? Check out 5 Ways to Reuse Cardboard Boxes.