Plastic Free July: Why Millions of People are Reducing Their Plastic Waste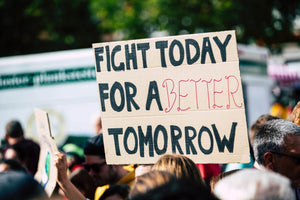 Plastic Free July: Why Millions of People are Reducing Their Plastic Waste
There are still 10 days left of Plastic Free July! If you have yet to pass on plastic, it's not too late! Here are 10 clever ways you can reduce your plastic use in 10 days:
1. Shop secondhand
From clothing and toys to electric gadgets and home décor – nearly all of it comes in (or is made from) some form of plastic packaging when purchased brand new. They also come with a hefty carbon footprint. Instead, head to a local thrift store to find secondhand items in need of a home. Thrifting is great for hunting for home goods, shopping for gifts and acquiring items for do-it-yourself projects. Bonus points if you bring your own reusable tote bags!
Not into the thrill of the hunt? Check out apps such as Facebook Marketplace and OfferUp to find pre-loved items. By purchasing secondhand, you're voting with your dollar to create less of a demand for new, plastic-based items and preventing used items from ending up in the landfill.
2. Buy in bulk
Save hugely on both plastic and paper packaging by buying in bulk. This goes for dried fruits, spices, herbs, flours, beans, quinoa, rice, nuts, seeds, grains, granola, nut butters and so much more. Bring empty glass jars (thrift 'em or use empty tomato sauce jars, etc.) and reusable bags to gather the goods!
While some large grocery store chains and smaller local markets offer a wide bulk selection, everyday bulk items aren't always abundantly available. Try to find a zero-waste store by you that offers liquids in bulk as well – you can often find olive oil, shampoos, conditioners, castile soap, detergents and powdered essentials, such as baking soda, dishwasher powder, laundry powder and more.
A huge reason why our Chocolate Magic and Vanilla Magic protein powders come in one bulk size (nearly 2 lbs.) and in stand-up pouches is to reduce space when shipping, allowing for less packaging compared to the size needed to ship large plastic tubs.
3. Say bye to microbeads
So many home care and beauty products are infused with microbeads. The claims are that they're beneficial for scrubbing surfaces and clothing, and exfoliating skin. Unfortunately, these beads are often made from plastic, which, in our opinion, doesn't really serve a purpose in a clean beauty or natural home care routine. Avoid anything with "polyethylene" listed as an ingredient.
Check your household cleaners and beauty product labels to see if these toxic microplastic beads are lurking in your daily items. If so, consider replacing these conventional products with pure, natural alternatives free of plastic-derived ingredients. Remember, just like avoiding "natural flavors," in packaged food, it's important to avoid beauty and home products that claim to be natural without true ingredient transparency. 
4. Pack utensils
No need to by new, fancy-shmancy bamboo "travel" utensils. You've already got a set in your kitchen, don't ya!? Roll a fork, spoon and butter knife in a cloth napkin and toss in your bag. Use at social gatherings, events and eateries where plastic utensils are the only option. Take it to the next level by packing a reusable straw!
5. Inspire brands to do better
There are so many great products out there that are packaged in plastic. Why? We don't know. But it's more important than ever to use your voice. Brands listen to consumers. Contact companies via email and phone. Send them a direct message on Instagram to hit the trifecta! Ask and you shall receive. That's why many natural deodorant brands swapped their plastic tubes for paper ones in recent years. You can inspire innovation!
6. Make sensible swaps
Once you're finished using the plastic-based personal products you currently have, replace them with their eco-friendly, non-plastic counterparts. Check out bamboo toothbrushes, biodegradable floss, compostable bandages, shampoo and conditioner bars, stainless steel razors, unpaper towels… the list goes on.
If you're stumped on how to replace an everyday plastic item, send us a DM on Instagram and we'll happily point you in the right direction. Reusable garbage pail liners exist – we're totally here for them – and we want to share more ideas like this with you!
7. Cart your containers
Eating out? You're bound to have leftovers. Bring your own containers to pack them up. Opt for the sleek stainless steel variety, or use what you already have. Glass jars and cleaned out takeaway containers both make great food storage vessels. 
8. Become a DIY pro
Use your bulk items to make your own household and personal care cleaners, including detergents, various soaps, stain removers and more.
9. Settle on bar soaps
Think sharing bar soaps is less sanitary than sharing bottles of liquid soap? Think again. A bar of soap is rinsed after each use. The plastic bottle pump? Eh, not so much. In fact, that pump is accumulating germs. No thanks! We love gentle bar soaps, such as Dr. Bronner's, Ethique and Pacha Soap Co.
10. Prefer powder over paste
While there are a few great natural toothpastes that come in recyclable tubes on the market, it's still not quite mainstream yet. And wouldn't it be great to avoid having to recycle something altogether? Especially since many curbside recycling programs can be, well, rather sketchy. Instead, opt for toothpaste tabs or toothpaste powder (you can even make your own!).

By Elyssa Eaton
Elyssa is a plant-based health and wellness enthusiast, and 200-hour registered yoga teacher, who spends most of her time slicing, dicing, blending and munching on colorful fruits and veggies. Inspired by a zero-waste lifestyle, Elyssa is often found out and about with a mason jar, glass straw and bamboo utensils in tow. If you're into smoothie bowls and rainbow salads, check her out on Instagram @elyssaeatonfresh.