The Benefits of Coconut + Why it's in Planet Protein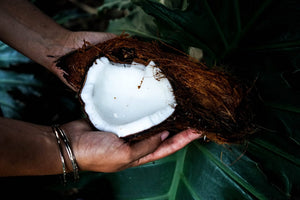 The Benefits of Coconut + Why it's in Planet Protein
Have you met olive oil's cooler cousin, coconut oil? Or how about its dreamy, dairy-free counterpart – coconut milk? Oh, and you may want to say hello to nature's energy drink – coconut water. Now that you're all acquainted, we can talk about why coconut is (and should always be) all the rage in wellness. 
A great source of fiber, coconuts are friendly to the digestive system. They contain a medium-chain fatty acid that aids in weight loss, boosts metabolism and detoxifies the body.
Why Planet Protein Uses Coconut
We sat down with Planet Protein founder and CEO, Brenden Fitzgerald, to find out why our Vanilla Magic and Chocolate Magic protein blends contain organic coconut in its many forms.
"They're high in manganese, which is essential for bone health and metabolizing carbs and protein." Brenden says."Coconuts are also rich in iron and have important antioxidants that protect our cells." 
If you look at the Nutrition Facts on ourChocolate and Vanilla Magic protein powders, you'll see the many different ways we utilize coconuts: coconut milk, coconut sugar, coconut cream and coconut oil powder. "We wanted to attain that smooth creamy texture while still giving you all of the benefits," Brenden says referring to coconut's ability to create the creamy texture for smoothies, shakes and more.
Read on to get to know the benefits of coconut a little better.
Coconut milk
When you crack open a mature brown coconut, you'll be greeted with rich, creamy coconut milk on the inside. 
It's thick in consistency and a great dairy-free milk option! Coconut milk has been shown to reduce inflammation and fight viruses and bacteria. Not only that, but they've been found to decrease stomach ulcer size. A 2008 study found that coconut milk reduced stomach ulcer size in rats by 54 percent – a result comparable to the effect of an anti-ulcer drug.
Coconut sugar
Coconut sugar is a popular sweetener among those that follow vegan and plant-based diets. It's minimally processed and truly matches the definition of a NATURAL sweetener!
At the end of the day, coconut sugar is still sugar. But, compared to regular sugar, it's a much better option to include in our diets. Our bodies rely on glucose for energy, and just like brown sugar and cane sugar, coconut sugar can help to raise blood glucose levels and prevent conditions such as low blood sugar or hypoglycemia. 
Coconut cream
Coconut cream is a very thick cream made from coconut milk. Typically, coconut cream is made by squeezing the meat of ripe brown coconuts and reservings the liquid that emerges.The only major difference between coconut milk and cream is that the cream contains more fat, plus it's much thicker. Coconut cream is loaded with vitamins and minerals.
Not a fan of bananas? Coconut cream is an excellent source of potassium. They're also filled with cancer-fighting antioxidants, magnesium and folate. You may have had coconut cream incurry dishes, or as a plant-based whipped cream alternative – and if you're a Chocolate Magic fan, you've most certainly had it in a shake, smoothie or oats.
Coconut oil powder
Coconut oil seems to be a major buzz word in the health and wellness world. It's started being used as the dominant cooking oil, hair care option, and some people even chuck it into their morning cup of coffee. The superfoods' combo of fatty acids can boost fat loss, heart health, and brain function. It's also been shown to reduce hunger cravings and raise HDL levels.
We just so happened to add coconut oil powder to the recently formulated Chocolate Magic to help get the texture even creamierYou can also find coconut oil powder in our new Vanilla Magic blend.
Coconut: Use This, Not That
Replace processed dairy ingredients with nutritious coconut! Learn more...
Where do our coconuts come from?
We source our coconut ingredients from teams that work on an exclusive basis with farms near their production facilities throughout the regions of India, Indonesia and the Philippines. The crew's mission to ensure that mutually rewarding trade exists with their farmers and that their families, villages and new generations share in the worldwide growth of the booming coconut industry! To bring this mission to life, they've implemented socioeconomic programs to help educate villagers in giving back to their own communities, and support their efforts by paying them more than fair prices for their products.
Recipe: Blue-Green Algae Magic Pina Coladas
Do you like pina coladas? How about blue-green algae MAGIC pina coladas?! This sweet, coconut-based treat will make you feel like you're sipping paradise. Perfect for a poolside treat!
Get coco-nutty >