Everything You Need to Know About Our NEW Vanilla Magic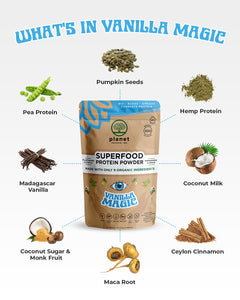 Everything You Need to Know About Our NEW Vanilla Magic
Hey, Planet Fam!
Allow us to introduce to you, the long awaited: Vanilla Magic Superfood Protein Powder.
Just like our soul-nourishing Chocolate Magic blend that you already know and love, Vanilla Magic is organic and vegan . Plus, it's made with clean, ethically sourced ingredients.
Fortified with vitamin B12, Vanilla Magic is a source of wholesome nutrition. Each scoop is loaded with ingredients that will clean up and strengthen your body, making you feel light, solid and rejuvenated after an intense workout. Ready to dive into all the goodies inside the eco-friendly bag? Let's do it!
What's in it?
Carefully crafted to ensure a healthy balance of both nutrition and taste, each ingredient in our new protein blend was intentionally selected with your body's benefit in mind.
Protein blend
Vanilla Magic is a protein powder designed to enhance physical performance and assist the body with a speedy and effective recovery.
To ensure your body is in a muscle-building state throughout the day, each bag of Vanilla Magic provides a combination of pea, hemp and pumpkin protein. What does this mean? Well, aside from supplying your body with high-quality plant protein, this unique blend supplies a variety of nutrients from each of these ingredients.
Pumpkin seed protein: Pumpkin seed protein is rich in fiber, enabling your body to efficiently breakdown any nutrients it receives, making it easier for the cells to absorb. Pumpkin seed protein is also a rich source of magnesium which is a compound involved in muscle relaxation and aids in post-workout recovery.
Hemp Protein: Hemp protein helps drastically reduce muscle inflammation, which often accompanies intense workout sessions. This small-but-mighty seed also accelerates muscle growth, giving your tissues the right fuel to repair themselves after a workout. Additionally, hemp protein helps regulate cholesterol levels and even strengthens hair follicles.
Pea Protein: The pea protein in Vanilla Magic keeps you full throughout the day, reducing the likelihood of unhealthy snacking between meals. It's also high in BCAAs (branched-chain amino acids) which come with a host of benefits, such as decreased muscle soreness and increased growth, accelerated healing, and reduced exercise fatigue.
Madagascar vanilla bean
This sweet-smelling bean helps prevent the breakdown of cells and tissues in the body, which is a common occurrence after a workout session. In fact, this ingredient helps stimulate the body's natural regenerative powers, quickly restoring it to a balanced physiological state.
And, for those of you counting calories, this vanilla bean aids in weight loss, lowers cholesterol levels, and even reduces anxiety, so you can work toward your fitness goals without the unnecessary stress that comes with it.
Maca root
With an aroma reminiscent of butterscotch ice cream (Mmm!), this root veggie has been used for generations in Peru to cure what natives called "tired blood" AKA anemia or lack of iron in the blood. Rich in iron and energy-boosting properties, ancient healers used maca root to help reverse the condition.
It's also rich in vitamin C, a compound that's essential for the repair and growth of new cells in the body. As a bonus, it also balances hormones, increases fertility and boosts your overall libido – and you know what that means (wink, wink!).
Coconut sugar & monk fruit
Unlike many bland and chalky protein powders on the market, Vanilla Magic tastes out of this world (we're serious!). In addition to flavorful Madagascar vanilla, which creates a thick, creamy texture perfect for making smoothies, we added coconut sugar and all-natural monk fruit sweetener to the mix. Hello distinct sweetness, goodbye empty calories!
Monk fruit is high in antioxidants and aids in tissue repair by protecting them from damage. This whole-food sweetener also helps increase healthy gut bacteria, keeping your system clean and improving digestion so the nutrients are efficiently absorbed.
Ceylon cinnamon
Ceylon cinnamon – what doesn't it do!? This ingredient aids in taste, weight loss and helps improve neurological health, allowing nerves to fire effectively and improve muscle-response time.
Additionally, it's a natural anti-inflammatory and helps reduce inflammation drastically, preventing injury and allowing the body to recover effectively after a workout.
Coconut milk
One of the more well-known ingredients in this magical blend, coconut milk has a wholesome nutrient profile.
Coconut milk helps soothe nerves and muscles, keeping them in a relaxed state, which is essential if they need to perform effectively during physical activity. Coconut milk also reduces joint inflammation, improving range of motion and minimizing the risk of injury during and after activity.
Wholesome & kind
One of the most important things to note is that the ingredients on this list are 100 percent organic and ethically sourced. This means that every bag of Vanilla Magic is filled with healthy, wholesome, sustainable and cruelty-free nutrition – and, of course, crafted with Planet Protein's mission in mind.
Ethically-sourced ingredients: Farmers who work in healthy, safe settings (at their own pace) and are paid fairly for their contributions to harvest all ingredients for Planet Protein products. For example, our coconut milk is sourced from a team that works exclusively with coconut farmers in India, Indonesia and Philippines. The team ensures the farmers receive good pay and ultimately help transition them into the coconut-growing As a result, the farmers become aware of the profits they are capable of generating.
For the greater good: Making the conscious decision to purchase Vanilla Magic is an active protest against child and slave labor, which in turn helps to cut down on the incidence of human trafficking (click here to learn more).
Cruelty-free: Our ingredients are completely plant-based. Zero animal products, zero animal testing, zero animal labor – nada. Vote with your dollar and you'll immediately become an active member in the campaign against animal cruelty (subscribe now

for 15% off per bag!).

Sustainability: Planet Protein sources ingredients from biodynamic organic farms and permaculture environments. Permaculture farms are scientifically designed to ensure a more sustainable way of living. It's a collaboration between humans and nature, ensuring that both live in a healthy balance, which means we're able to take without harming the Earth and her resources. It's an effective solution to the destructive path that the current food system is built upon. Adding Vanilla Magic to your cart shows there is a demand for more sustainable agricultural practices. Yay! A healthier world – can you see it now?
Supplement your workouts today!
Vanilla Magic is more than just a bag of protein powder to be gulped down mindlessly after a workout. It's a gift you give to your body to help it heal and grow in the most effective way possible. By including this holistic fuel in your daily life, you get to positively impact the lives of workers, animals, and the health of the planet as a whole.
Start your journey to a healthier, more conscious lifestyle by gifting yourself a bag of Vanilla Magic Superfood Protein Powder today.